nikon d5700
Category: Nikon D5700
Nikon D5700 is an upcoming mid-range DX DSLR camera to be announced in 2019. It will replace current Nikon D5600 with a lot of great new features. Stay tuned for more info.
Nikon N1834 Camera Has EN-EL20a Battery (New DX DSLR or DX Z Mirrorless ?)
The new Nikon N1834 camera code now also registered at Taiwan NCC, according to Taiwan NCC, the battery of Nikon N1834 is "EN-EL20a", the AC adapter is "EH-73P", and the USB cable is "UC-E21". Compatible with "Speedlight SB-500", "Stereo Microphone ME-1" and "Remote Code MC-DC2". So this new camera could be a DX format Nikon DSLR camera or DX format Nikon Z-mount mirrorless camera.
More Info about Upcoming 6 Unannounced Nikon Cameras
Currently, there is a total of six unannounced Nikon camera codes got registered. So what are these cameras could be ? Below are rumors about upcoming new cameras:
What to Expect Next from Nikon ? (June 2019)
This is June version of "What to expect next from Nikon ?" Same as last month, there are a total of 5 new Nikon camera codes got registered, this means there will be at least 5 new Nikon cameras coming in 2019 to 2020.
Read More »
Rumors on Nikon Z3, Z5, Z9, D5700, D7600 and More
Nikon currently has a total of 5 new camera codes got registered, this means we will see at least 5 new cameras in the near future. Below are some new rumors on upcoming Nikon cameras.
Read More »
What to Expect Next from Nikon ? (May 2019)
This is May version of "What to expect next from Nikon ?" Same as last month, there are a total of 5 new Nikon camera codes got registered, this means there will be at least 5 new Nikon cameras coming in 2019 to 2020.
Read More »
What to Expect Next from Nikon ? (April 2019)
What to expect next from Nikon in the second half of 2019 to early 2020 ? Here is a roundup rumors of upcoming Nikon cameras and lenses. Currently there are a total of 5 new Nikon camera codes got registered, this means there will be at least 5 new Nikon cameras coming in 2019 to 2020.
Read More »
Four New Nikon Camera Codes Registered ! (7 Total Unannounced Cameras Now)
According to Nokishita Camera, Nikon recently has registered another 4 new Nikon camera codes: "N1845" "N1847" "N1849" "N1850". Along with previous unannounced Nikon camera codes, now Nikon has a total of 7 upcoming/unannounced cameras:
New Nikon N1838 Camera Registered
Along with Nikon N1811 camera code registered several weeks ago, a new Nikon camera code N1838 now registered at Russian certification bodies.
Next Nikon DSLR: D5700 or D7600 ?
Today Nokishita Camera has posted more info about next Nikon camera code "N1811". The N1811 camera is made by ALTEK, same as recently released Nikon D3500. So Nikon "N1811" could be upcoming Nikon D5700 or Nikon D7600.
Read More »
Nikon d5700
These Download Terms and Conditions («Agreement») constitute a legal agreement between you (either an individual or single entity) and Nikon Corporation or its associated company («Nikon») setting forth the terms and conditions governing your download of the operation manual for our products ("Manual"). By clicking the «Download» button on this page in order to start downloading the Manual, you indicate your acceptance of this Agreement and are agreeing to be bound by the terms of this Agreement. Please read this Agreement carefully before beginning download.
This license is not a sale of the Manual and you do not become the owner of the Manual through your purchase of any product, download and/or use. Nikon retain ownership of the Manual and all copies thereof and all related intellectual property rights, and reserves all rights not expressly granted to you under this Agreement. This Agreement constitutes the complete and exclusive agreement, oral or written, between you and Nikon.
1. MANUAL
The Manual are for customers who have purchased our products. We may be unable to respond to inquiries from individuals who have not purchased our products. Please note that the manual and the contact information therein are subject to change without notice.
The Manual is protected by Japanese copyright law and international copyright laws and treaties. You must reproduce on each copy the Nikon copyright notice and any other proprietary legends that were on the original.
2. RESTRICTIONS
Except as otherwise stated in this Agreement, you may not make or distribute copies of the Manual to others or electronically transfer the Manual from one computer to another over a network. YOU MAY NOT ALTER OR REMOVE ANY COPYRIGHT, TRADEMARK OR OTHER PROTECTIVE NOTICES CONTAINED IN THE MANUAL. YOU MAY NOT ASSIGN OR OTHERWISE DISPOSE OF, MODIFY, ADAPT, TRANSLATE, RENT, LEASE, LOAN, RESELL, DISTRIBUTE, NETWORK, OR CREATE OR HAVE CREATED DERIVATIVE WORKS BASED UPON THE MANUAL OR ANY PART THEREOF.
3. LIMITED WARRANTY AND DISCLAIMER
TO THE MAXIMUM EXTENT PERMITTED UNDER APPLICABLE LAW, THE MANUAL IS PROVIDED ON AN «AS IS» BASIS, WITHOUT WARRANTY OF ANY KIND, AND NIKON, ITS EMPLOYEES, DISTRIBUTORS, DEALERS AND AGENTS SPECIFICALLY DISCLAIM ANY WARRANTY OF ANY KIND, EITHER EXPRESS OR IMPLIED, INCLUDING, BUT NOT LIMITED TO, ANY IMPLIED WARRANTY OF MERCHANTABILITY, FITNESS FOR A PARTICULAR PURPOSE OR NON-INFRINGEMENT. TO THE MAXIMUM EXTENT PERMITTED UNDER APPLICABLE LAW, NIKON, ITS EMPLOYEES, DISTRIBUTORS, DEALERS, AND AGENTS DO NOT WARRANT THE PERFORMANCE OF OR THE RESULTS YOU MAY OBTAIN FROM THE MANUAL, OR THAT THE MANUAL WILL MEET YOUR REQUIREMENTS OR THAT THE OPERATION OF THE MANUAL WILL BE UNINTERRUPTED, ERROR-FREE, OR FREE OF VIRUSES. TO THE MAXIMUM EXTENT PERMITTED UNDER APPLICABLE LAW, NEITHER NIKON, NOR ITS EMPLOYEES, DISTRIBUTORS, DEALERS OR AGENTS SHALL BE LIABLE TO YOU FOR ANY INDIRECT, CONSEQUENTIAL OR INCIDENTAL DAMAGES, LOSSES OR, EXPENSES OF ANY KIND, WHETHER LOSS OF PROFITS, BUSINESS INTERRUPTION, OR OTHERWISE ARISING OUT OF OR RESULTING FROM THE MANUAL, HOWEVER CAUSED, EVEN IF NIKON, ITS EMPLOYEES, DISTRIBUTORS, DEALERS OR AGENTS HAVE BEEN ADVISED OF THE POSSIBILITY OF SUCH DAMAGES, LOSSES, OR EXPENSES. THIS DISCLAIMER CONSTITUTES AN ESSENTIAL PART OF THIS AGREEMENT AND NO USE OF THE MANUAL IS AUTHORIZED EXCEPT UNDER THIS DISCLAIMER.
4. GENERAL
This Agreement is governed by and shall be construed in accordance with the laws of Japan without regard to its conflicts of laws principles. In the event a dispute arises under or in connection with this Agreement, you hereby consent to personal jurisdiction of Japan and waive any objection that such forum is inconvenient. You further consent to service of process in any action arising from this Agreement by regular mail or other commercially reasonable means of receipted delivery. If any provision of the Agreement shall be determined invalid for any reason, the remaining provisions shall not be invalidated and shall remain in full force and effect. This Agreement sets forth the entire agreement and understanding between you and Nikon, and supersedes and replaces any other agreements relating to the subject matter of this Agreement. The failure of any party to insist upon strict performance of any of the terms or provisions of this Agreement, or the exercise of any option, right or remedy contained herein, shall not be construed as a waiver of any future application of such term, provision, option, right or remedy, and such term, provision, option, right or remedy shall continue and remain in full force and effect. The headings of the sections of this Agreement are inserted for convenience only and shall not constitute a part hereof or affect in any way the meaning or interpretation of this Agreement. Except as otherwise expressly provided herein, the provisions of section 3 and section 4 together with any provisions that by their express terms apply to periods after termination of this Agreement, shall survive termination of this Agreement for any reason.
Manuals for Nikon products/ 2018/02/15/ Ver.2.0.0
Manual Viewer 2
The Nikon Manual Viewer 2 app for iPhones, iPads, iPod touch, and Android devices can be used to download the manuals for Nikon digital SLR cameras and view them offline.
Note: For the latest information, visit the App Store or Google Play.
What to expect from Nikon D5700
Here is our expectation of the mid-level digital SLR, Nikon D5700 camera. The DX-format Nikon is one of the most popular interchangeable-lens camera in the company's lineup.
Undoubtedly, the beginners who need a DSLR camera with great image quality in compact sizes, the APS-c sensor based model becomes ideal for their needs. We can understand this because the D5600 bundle is a #1 product sold in Amazon for a long time.
Nikon has been rumored to introduce a new DX-format DSLR camera in late 2018. The device in question were a entry to mid-level model that would be the replacement of D5600. There is no signal of a successor model as of early 2018. In this post you'll find what we expect from Nikon D5700 camera.
Our expectations about the Nikon D5700 camera
The rumor mill didn't provide when will be the entry-level DSLR camera become official. As a result Nikon D5700 camera price and release date information remains unknown. First let's remember the D5600 specs and details.
Nikon D5600
The D5600 comes packed with a 24.2MP APS-C CMOS Sensor and EXPEED 4 Image Processor. The DSLR camera features 39-Point 9 Cross-Type. It has 5fps burst mode and the camera offers full HD 1080p Video Recording at 60 fps.
Expectations for Nikon D5600 camera
The company is on the verge to announce a new digital SLR camera called the Nikon D5700. Here are our thoughts and expectations for the D5700 camera.
24-Megapixel APS-C CMOS Sensor
Expeed 5
ISO up to 51,200
Multi-CAM 4800 DX 51-Point AF Sensor
6fps Burst Speed
4K @30fps (expected)
Snapbridge Bluetooth Connectivity
Same body design ergonomics
Price around $799
W e hope the Nikon D5700 camera will arrive in late 2018 at the Photokina 2018. Everything you need to know about the Nikon D5700 will be on DCN including impressions and analysis, photos, video, release date, prices and specs. Please feel free to relay your comments, or suggestions.
Nikon D5300
Aparat fotograficzny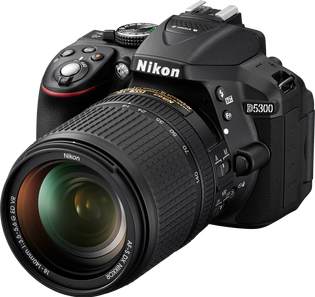 Nikon D5300 to imponująco mocna pozycja na półce z lustrzankami. Nowością marki w tego typu urządzeniach było zastosowanie modułu Wi-Fi oraz GPSa. Dodatkowo wytrzymała konstrukcja wykonana w technologii Monocoque umożliwiła odejście od metalowych elementów wewnątrz aparatu.
Nikon D5300 – dane ogólne
Nikon D5300 to lustrzanka cyfrowa z bagnetem F, która zadebiutowała na światowym rynku fotograficznym w 2013 roku. Jej poprzednikiem był stosunkowo podobny wizualnie Nikon D5200. W dniu wielkiej premiery sam korpus wyceniono na 799,95 dolarów, natomiast za zestaw z obiektywem 18-140mm F3.5-5.6 trzeba było zapłacić 1399,99 dolarów. Obecnie model aparatu można nabyć w naszym kraju za 2800 zł.
Nikon D5300 – parametry techniczne
Nikon D5300 charakteryzuje się interesującym i dosyć innowacyjnym korpusem, którego technologia wykonania zbliżona jest do Boeinga 787 Dreamliner czy bolidów Formuły 1. Elementy są bardzo dobrze spasowane, a samo urządzenie wygodnie leży w dłoni także dzięki głębokiemu gripowi. Aparat cyfrowy obsługuje karty pamięci typu SD, SDHC oraz SDXC.
Za łączność odpowiadają tutaj USB 2.0, mini HDMI typu C (możemy go podłączyć bezpośrednio do telewizora i sterować pilotem), a także niezwykle przydatny moduł Wi-Fi. Jest również wbudowany GPS.
Wymiary Nikona D5300 wynoszą 125 x 98 x 76 mm, natomiast całkowita waga nieuszczelnionego sprzętu wraz z litowo-jonowym akumulatorem (EN-EL14 bądź EN-EL14a – wystarczy na zrobienie do 600 zdjęć na jednym ładowaniu) oraz kartą to 530 g.
Nikon D5300 – matryca i procesor
Producent wyposażył aparat Nikon D5300 w nową matrycę CMOS 24 Mpix bez filtra dolnoprzepustowego w rozmiarze APS-C (23.5 x 15.6 mm) o maksymalnej rozdzielczości 6000 x 4000. Za efektywne funkcjonowanie matrycy urządzenia odpowiada sparowanie jej z wydajnym procesorem przetwarzania obrazu Expeed 4.
Dostępny dla lustrzanki zakres wartości czułości ISO wynosi 100-12800, przy czym po redukcji rozdzielczości możemy go rozszerzyć do 25600. Nikon D5300 świetnie się więc sprawdzi również podczas fotografowania przy słabszym oświetleniu.
Nikon D5300 – zdjęcia i filmy
Nikon D5300 dysponuje 39-polowym autofokusem dla precyzji ostrości. Bagnet F pozwala skorzystać z dużego wyboru obiektywów NIKKOR. Fotografie zapisujemy w formatach JPEG bądź RAW, natomiast zdjęcia seryjne zrobimy z prędkością do 5 klatek na sekundę. Nakręcimy również płynne filmy w dobrej jakości Full HD z dźwiękiem stereofonicznym.
Nikon D5300 posiada najnowocześniejszy, ruchomy wyświetlacz LCD, niedotykowy, o przekątnej 3,2 cala, o rozdzielczości 1,04 mln punktów. Jest tutaj także wizjer optyczny z pokryciem kadru do 95 proc. i powiększeniem rzędu 0,82 raza, wbudowane lampa błyskowa typu pop-up oraz złącze hot shoe do podłączenia dodatkowego flesza zewnętrznego. Przydatne są też liczne efekty i programy tematyczne.
Review of Nikon D5700 release date, price, characteristics, and what to wait?
After Nikon D5600 had been released, which surpassed absolutely no expectations and became one of the flops of the company, there arose an issue as for characteristics of the next camera in the line – Nikon D5700 and if there is any sense in its release (it sounds as a rhetorical question, in any case nobody will ask about it).
Of course, the majority of professional photographers who shoot on their d750, D4, D810, etc. perhaps don't even know either the names of the recent models of the previous line either anything of their characteristics. They don't care as for this. They have already made their choice. However, newcomers, the number of which increases every year, become more and more selective in choosing the camera. They choose among Canon, Pentax, Sony, or the Nikon, and after such a release they begin to think. Even in 2012 Canon left Nikon behind with its touch screen, then in 2015 Canon released a 50-megapixel camera, invented and introduced a new auto focus system Dual pixel that has worked well and it also developed stuff alike. Therefore, it is likely that future cameras, lenses, technologies will also be ahead of Nikon. In general, the point is that after such heavy criticism, which dramatically collapsed on the company, the only way out to outperform the skeptics is a big leap in the Nikon D5700. What it can be and whether it will happen, let us try to predict again.
Review of Nikon D5700
As expected, today the reason for the release of the new model, which costs 100 dollars more compared to the previous one, is not just an improved image quality, not an increased operating ISO or a clipboard, but an installation of means of a connection to external devices (smartphones) or GPS for geotagging.
There is no sense in arguing as for the relevance and irrelevance of these innovations. It is not new that the future belongs to the cloud technology and all these "curve" means of synchronization is only the first step to something far-reaching and really worthwhile. But it is in the future and now it is so sad to follow announcing a new model of the camera of one of the largest companies, which in fact can be compared to a firmware update of your old device. A person who takes pictures of shoes, clothes or any other items for an online store may even be grateful to you for such trifles as controlling camera settings and shutter release via the tablet (Snapp Bridge app) as can you can immediately examine a shot on the tablet and evaluate if it is good or not. In addition, there are many applications allowing you to make a minimal color correction and retouching.
Other photographers who are mainly engaged in shooting weddings and different events can post their pictures in social networks directly from shooting location, even with the geo – a kind of a photo report. But what about the fact that the cheapest smartphones up to $ 100 have a built-in Wi Fi and GPS and are able to synchronize with the other smartphones via apps. It is too late to surprise with such things, they must be everywhere. And as we are talking about the same photographic technique you need to surprise with the image quality and preservation of this quality whether at ISO increase or at continuous shooting.
So, we believe firmly that Nikon just really decided to put aside the most interesting fact for the next model, namely the Nikon D5700.
Let's analyze what we already have and what to expect. A connection means via Snapp Bridge and Wi Fi are already added, hoping it would not be removed, as they did with the built-in GPS in D5500 and D5600. There are chances that they will return it back. We also expect D5700 to develop more in terms of image quality. What we wanted from the previous model can delight us in a new model – a processor of a new generation EXPEED 5, which generally increase both the image quality and the dynamic range.
Given that we are talking about the camera, not related to the top-class, it is likely that 90% of the characteristics remain in their place. The shutter speed remains within a range of 1/4000 to 30 seconds, the frame rate jpeg – 5 shots per sec, RAW – 4 shots per sec.
There is no point in having a low-pass filter for this camera. It's not even the camera itself, and those who buy it. If you are a commercial photographer who makes money, then you are likely to choose between the Nikon D750 and D810, or other recent model in which you look for the presence, the absence, the necessity of a low-pass filter. The same applies to most other features, the paradox is that they are important, but their potential can be unlocked only on cameras and lenses of previous series, which cost as twice as the Nikon D5700 Body or even more, but play just a marketing role. The detector of auto focus Multi-Cam 4800DX with 39 focus points, nine of which are of a cross-type and are used in a series 5 *** starting with Nikon D5200 and we are almost sure that it will be installed in D5700 and hence the sensitivity of the auto focus will remain with the same range from -1EV to + 19EV at ISO 100 and at an ambient temperature of 20℃. The resolution is 24.2 MP (6000 by 4000 pixels). And again, the autofocus will work unstably in dark lenses in more or less normal light, and sometimes it even does not work.
Due to the advent of Snapp Bridge in D5600 infrared sensor, which received signals from the remote control, disappeared. Nikon decided that it makes no sense, because now the smartphone will perform all its functions. But, in our opinion, for example, it is not always convenient and safe to use a smartphone at the cost of $ 1,000 as a remote control near a waterfall. So, we hope that we will be heard.
What concerns the buffer capacity we can simply remain silent, it remains small, it is not that camera class, from which we should not expect this kind of improvement.
4K video resolution in the Nikon D5700
Recording resolution of video clips as 4K (3840×2160) also has a small probability, though it would be very helpful at the camera with a rotating screen. Hopefully, this update may fully rehabilitate the failure of D5600
The price of Nikon D5700 Body and release date
The price of a new Nikon D5700 and Body as one set will be about $ 1050, but with 15-55 Kit lens the price will be about 1150 $. The release date is planned for the first half of 2018
Nikon Coolpix 5700 — odsłona pierwsza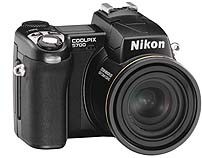 Oto najpoważniejsza z trzech premier dzisiejszego dnia. O dwóch pozostałych piszemy poniżej, a w tym miejscu prezentujemy podstawowo cechy Coolpixa 5700.
Zobacz pozostałe dzisiejsze premiery Coolpix 4500 i Coolpix 2000.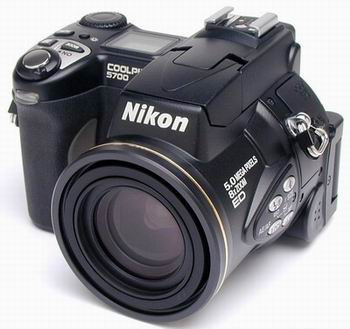 Coolpix 5700 to bezpośredni następca niedawnego Coolpixa 5000 lub raczej jego większy brat. Podstawowa widoczna gołym okiem różnica to duży 8-krotny obiektyw 35 — 280mm (ekwiwalent dla 35mm) F2.8 — F4.2. Dzięki niemu aparat przypomina nieco lustrzankę. faktycznie obraz widziany w wizjerze jest wyświetlany na elektronicznej matrycy EVF o wysokiej rozdzielczości 180 kilopikseli (krycie 97%) co jest nowością w konstrukcjach Nikona.
Nowy Coolpix posiada 5-megapikselową matrycę CCD (2/3″, maksymalna rozdzielczość 2560 x 1920) i znany z C5000 uchylny obrotowy ekran LCD (teraz trochę mniejszy 1.5″ zamiast 1.8″). Całość zamknięta jest w obudowie ze stopu magnezowego. Znalazło się miejsce na wbudowana lampę błyskową i stopkę lampy zewnętrznej. Inna drobna zmiana to lokalizacja małego wyświetlacza LCD z informacją o ustawieniach aparatu — teraz w górnej części obudowy, a nie na plecach jak w C5000. Do fotografii wysokiej jakości udostępniono bezstratny format RAW (Nikon NEF) oraz TIFF; JPEG jest już zgodny z EXIF 2.2, ciekawie wygląda bardzo rozbudowany tryb filmowy.




Ponadto Coolpix 5700 posiada tryb szybkostrzelny pozwalający na rejestrację pierwszych trzech ujęć z prędkością 3 kl/sek. Migawka pracuje w zakresie 1/4000 sek. — 8 sek., wydłużono zdecydowania dopuszczalne otwarcie w trybie bulb — aż do 5 minut. Ekwiwalent czułości wynosi od ISO 100 do ISO 800, do wyboru pozostaje kilka metod pomiaru ekspozycji — 256-segmentowy pomiar matrycowy, centralnie ważony, punktowy oraz punktowy związany z jednym z 5 punktów AF. Ostrość poza szerokim obszarem może być strojona punktowo lub manualnie. Oczywiście dobór parametrów ekspozycji poza automatycznym może być manualny, pólmanualny z priorytetem migawki lub z priorytetem przysłony.
Zapraszamy do lektury starszego tekstu na temat poprzednika — Coolpixa 5000.
Nikon d5700
Irix 45mm f/1.4 Lens Officially Announced
Leica S3 64MP Medium Format Camera, Price : $18,995
Nikon D6 Release Date Delayed due to Coronavirus, Coming in May
Capture One Pro 20 update adds support for Fujifilm X-T4, Nikon D780
Fujifilm INSTAX Mini 11 Instant Film Camera : Price $70
Nikon Upcoming Cameras 2020
Nikon upcoming DSLR and Mirrorless cameras that are rumored to arrive in 2020. You can find the list based on the latest information…
December 12, 2019 (updated February 4, 2020) | By dcnadmin | 11 Comments
What to Expect from Nikon? (October 2019)
Here are the latest updates for the upcoming Nikon full frame mirrorless, DSLR cameras as well as new lenses. In this October…
September 27, 2019 (updated September 28, 2019) | By dcnadmin | 0 Comments
Rumors: List of Nikon DSLR Cameras to be Replaced by Nikon Mirrorless Models
Here is the rumored list of Nikon DSLR cameras that will not be replaced with a new DSLR model, in…
July 4, 2019 (updated July 4, 2019) | By dcnadmin | 0 Comments
Nikon Z3, Z5, Z9, D5700, D7600 Rumored Specs
Here are the latest updates for the Nikon camera rumors. As you know the company has a total of 5…
May 29, 2019 (updated September 21, 2019) | By dcnadmin | 0 Comments
What to Expect from Nikon? (May 2019)
Here are the latest updates for the upcoming Nikon full frame mirrorless, DSLR cameras as well as new lenses. In this…
Nikon Upcoming Cameras in 2019
Nikon upcoming DSLR and Mirrorless cameras that are rumored to arrive in 2019. You can find the list based on the latest information…
January 31, 2019 (updated May 29, 2019) | By dcnadmin | 0 Comments
What's Next for Nikon DX : D5700 or D7600?
What's next for Nikon DX? What is waiting for us D5700 or D7600? We can already say that Nikon will…
November 29, 2018 (updated November 29, 2018) | By dcnadmin | 0 Comments
What to expect from Nikon D5700
Here is our expectation of the mid-level digital SLR, Nikon D5700 camera. The DX-format Nikon is one of the most popular interchangeable-lens camera…
March 9, 2018 (updated March 9, 2018) | By dcnadmin | 0 Comments
Subscribe Our Newsletter
Subscribe to our daily newsletter and get the latest posts delivered straight to your inbox.
Nikon D5500 vs Nikon D5600
Dlaczego Nikon D5500 jest lepszy od Nikon D5600?
45g lżejszy
420g vs 465g
Może być kontrolowane zdalnie poprzez pilota
Dlaczego Nikon D5600 jest lepszy od Nikon D5500?
Posiada autofocus z detekcją fazową dla nagrywania filmów
Jakie są najpopularniejsze porównania?
Canon EOS Rebel T7i
Canon EOS Rebel T6
Tańsze odpowiedniki
Canon EOS 5D Mark IV + Canon EF 24-105mm f/4L IS USM
Pentax K-1 Mark II + Pentax D FA 28-105mm HD f/3__5-5__6 ED DC WR
Pentax K-1 Mark II
Sony Alpha a7 III
Sony Alpha a6500
Nikon D7500 + Nikon AF-S DX Nikkor 18-140mm f/3.5-5.6G ED VR
Nikon D600 + AF-S NIKKOR 24-85mm VR
Canon EOS 77D + Canon EF-S 18-55mm f/4-5.6 IS STM
Dzięki 100% pokryciu możesz skomponować zdjęcie odpowiednio. Z niecałkowitym pokryciem możliwe, że będziesz musiał obcinać je w późniejszym czasie aby odpowiednio wyglądały.
Panasonic Lumix DC-S1H
Ekrany typu flip-out mogą być przydatne podczas robienia skomplikowanych ujęć.
Gorąca stopka daje możliwość podłączenia zewnętrznej lampy błyskowej, która daje większą siłę błysku oraz naturalniejsze zdjęcia poprzez odbicie błysku od ścian i tym podobnych.
Wizjer optyczny pozwala fotografowi skomponować ujęcie widząc dokładnie obraz «widziany» przez soczewkę. Nie ma opóźnienia czasowego oraz nie wymaga źródła energii w przeciwieństwie do wizjera elektronicznego. Wizjer optyczny sprawdza się również lepiej w warunkach słabego oświetlenia.
Urządzenie posiada trzy pełne sub-piksele przypadające na jeden piksel, co powoduje, że obraz jest ostry i wyraźny. Piksele w niektórych wyświetlaczach (np. AMOLED) dzielą tylko jeden subpiksel żeby zachować przestrzeń. Może to spowodować nieostry lub rozmyty obraz.
Im więcej punktów ostrości, tym więcej swobody w wyborze części sceny, na której się skupiamy. Daja one również większe prawdopodobieństwo, że matryca zidentyfikuje właściwy obszar sceny do ustawienia ostrości przy bardziej automatycznych trybach.
Im większa matryca, tym więcej światła jest ona w stanie uchwycić dostarczając zdjęcia lepszej jakości.
Z dynamicznym autofokusem, gdy wybrałeś obiekt i przycisnąłeś spust migawiki, gdy obiekt się porusza, autofokus będzie go śledził. Koniec z nieostrymi ujęciami.
Autofokus z detekcją fazową jest dużo szybszy niż autofokus z detekcją kontrastu i pozwala na wykonywanie ostrzejszych zdjęć.
Wyższe poziomy światłoczułości (ISO) są w stanie uchwycić więcej światła, unikając szumów i rozmazań lub umożliwiając ujęcia przy słabym oświetleniu. Jednakże wyższe ustawienia ISO skutkując często zdjęciami o niższej jakości.
Właściwości w >
Maksymalna dostępna rozdzielczość filmów nagrywanych główną kamerą. Jednakże istnieje możliwość wyboru pomiędzy inną ilością klatek, te nagrania zwykle mają niższą rozdzielczość.
Canon EOS-1D X Mark III
Podczas nagrywania filmy pozostają ostre i wyraźne.
Autofokus z detekcją fazową jest dużo szybszy niż autofokus z detekcją kontrastu. Nawet podczas nagrywania filmów z dużą ilością szybkich ruchów, filmy mają dobrą ostrość, są czyste.
Timelapse lub inaczej film poklatkowy przedstawia dłuższy moment czasu w przyśpieszonym tempie. Seria zdjęć wykonanych z tej samej pozycji przez długi czas zostaje połączona ze sobą, tworząc krótkie wideo. Jest to świetny sposób, aby uchwycić rzeczy takie, jak zachodzące słońce lub chmury poruszające się po niebie.
Nagrywa w standardzie 24p, tzn. 24 klatki na sekundę, pozwalając osiągnąć «efekt kinowy» nagranego filmu.
Nikon Upcoming Cameras 2020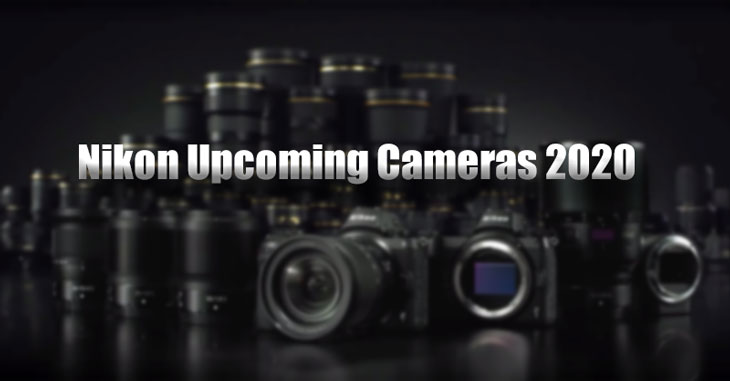 Let's talk about the list of possible Nikon DSLR and Mirrorless that may arrive in the year of 2020. We do have lots of patent related to Nikon upcoming cameras, which clearly shows off Nikon is working on advance camera technologies to bring out more better user experience and make cameras more intelligent as well as better than ever. Not only that, we have also seen a patent where Nikon engineers are working on biometric system to be merged with camera and lens controls. On Sep of 2018 Nikon introduce Nikon z6 & z7 full frame mirrorless camera and on 2019 Nikon announced Niko z50 DX format mirrorless camera and all of them were very impressive. Unfortunately, the market share of Nikon mirrorless system cameras are not as good as Sony or Canon, but we do believe that in the upcoming years, Nikon will become one of the largest mirrorless makers of the world.
We do know that Nikon is concentrating in the development and announcement of mirrorless system cameras from past 1 year. They are in the the path of DSLR cannibalization as of Canon. And being a Nikon user it's better to go with Nikon mirrorless cameras instead of DSLR. Since, we all know that Nikon z Mount is future mount.
List of Nikon upcoming models to be announced in the year of 2020 – We have created a list of to be announced Nikon cameras in the year of 2020. List of camera include DSLR as well as mirrorless cameras.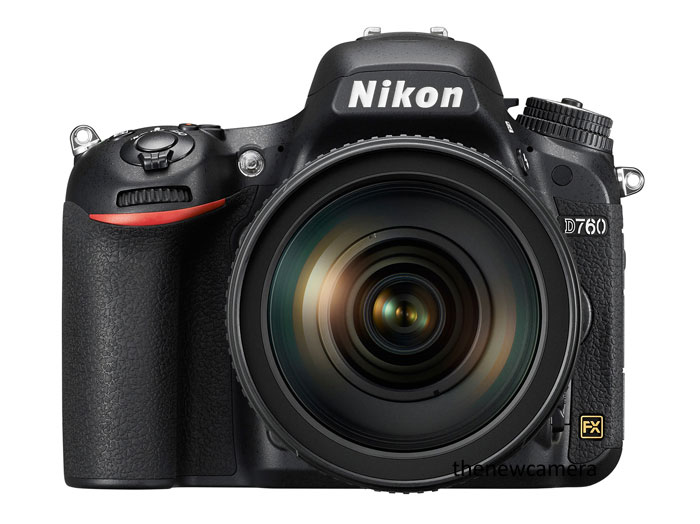 1. Nikon D760
According to the recent set of rumors we have, Nikon D760 DSLR is coming in the year of 2020. Nikon D760 said to be the successor of ultra popular Nikon D750 camera, at the same time rumor mills also confirm us the name of the camera isn't Nikon D760, it's expected to be Nikon D770 or D780. From a early set of leaked specification we came to know that, Nikon D750 successor will have same sensor as we have seen inside Nikon z6 full frame mirrorless camera. Not only the sensor, most of the major core specification of the Nikon z6 camera is coming inside Nikon D770 or D780 camera. Nikon D750 camera successor is also coming with N-log video profile and 4K video recording at 30 and 24 frames per second.
Nikon D770 / D780 Rumored Specification
24MP BSI improved sensor
Articulated TFT LCD tilting touchscreen, 3.2 ″ with 2,100,000 dots
Significantly improved processor (compared to the D750)
Improved fps RAW shooting
V />
2. Nikon D6 DSLR
Nikon already done a development announcement of Nikon D6 DSLR camera. We already have the announcement date and the full specification of the camera. Based on the initial set of rumors we have, the camera is coming on February month of 2020. Let's discuss the specs of the camera, Nikon d6 will have a 24 megapixel newly developed full frame sensor. 4K video recording mode with 60 frames per second option and built-in image stabilization system. Not only this, we have full specification of the upcoming camera you can see here.
Nikon D6 Rumored Specification
3. Nikon Z9
Nikon z9 camera is also in the Nikon mirrorless camera roadmap. But unfortunately the camera isn't coming so soon, earlier there was rumor that Nikon z9 mein arrive in the year of 2020. But we do have some initial hints which indicate that there is no chance for the arrival of Nikon z9 camera in the year of 2020.
Yes they do have working prototypes of the camera, but Nikon is not in the mood to announce Nikon z9 mirrorless system camera so soon, most probably the announcement of Nikon z9 camera in 2020 will directly affect the sales of to be announced Nikon d6 camera which isn't a good thing for Nikon itself.

4. Nikon Z8
In past, as per rumors surfaced over the web Nikon Z8 camera prototypes spotted with 61 MP sensor ( Sony IMX 455 AQR sensor).
Nikon Z8 will have dual CF Express memory card slots, 5.5 Stops of image stabilization, a new High Resolution mode to capture 240MP images, and an ISO range of 64 to 25,600 (expandable to 32-102,400). We are almost confirmed that Nikon will be revealing Nikon Z8 camera at Aug-Sep of 2020 if every thing goes on schedule.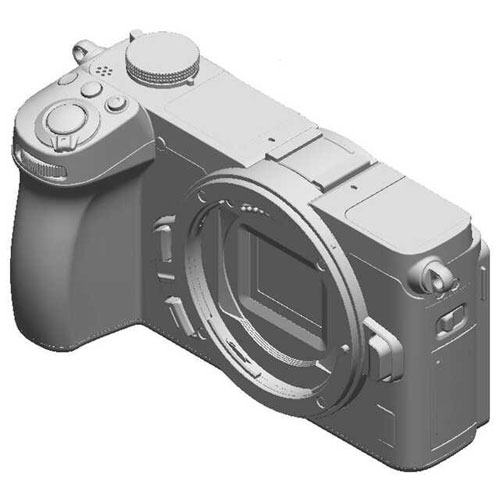 5. Nikon Z30 camera
We have already shown you the designs of to be announced Nikon z30 camera. Nikon z30 is entry level APS-C mirrorless camera, setting just behind the Nikon z50. Nikon z30 camera is rumored to feature 24mp DX format sensor and 4K video recording capability. As usual the Camera have single card slot being entry level camera, it features very compact body even is smaller than existing Nikon z50 camera. Nikon z30 camera is set to arrive on the need of 2020.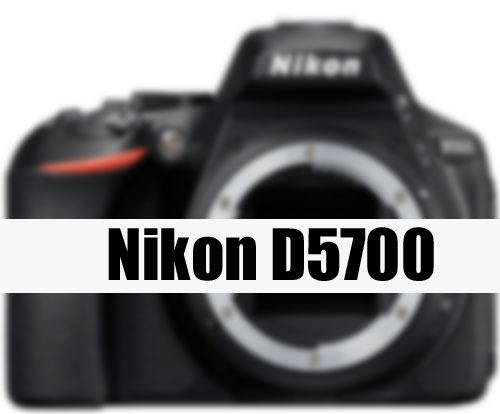 6. Nikon D5700 camera
Nikon D5700 camera announcement was schedule for 2019. Due to Nikon z50 camera they have delyed the announcement of Nikon D5700 camera as well as Nikon D7600 camera announcement. As per rumors we have the Nikon D5700 DSLR may arrive at the end of 2020, so if you are waiting for Nikon d 5600 camera update you may have to wait for some more time.
We will update you more, foolow us for LIVE updates.
Nikon D5100 In-depth Review
The arrival of the D5100 appears to signal the completion of Nikons refresh of its non-pro DSLR lineup. Its feature set and pricing mean that it sits very comfortably between the beginner-friendly D3100 and the high-end D7000 — it's clearly aimed to attract the attention of enthusiast photographers without cannibalizing sales of is sister models. A camera maker can judge the success of its market positioning by seeing how many people are wondering 'which model is right for me?' on discussion forums — and we think a D3100/D5100/D7000 progression would minimize such doubts. The official line is that the D90 maintains its position in the range, but both its naming and overlap with other models suggest that its role is now more one of historical interest than future significance.
The D5100 has a very similar 16.2MP CMOS sensor to the excellent one seen in the D7000 but, understandably, loses out on that camera's high-end build and feature-set. So there's no wireless flash control, magnesium alloy build or 39-point AF system but the underlying image quality is all but identical.
As has become standard for a Nikon at this price point, the D5100 offers a single control dial, pentamirror viewfinder and no built-in autofocus motor. However, it gains 1080p video capability (at 30, 25 or 24fps), saved using the efficient H.264/AVC codec, and a 920,000 dot fully articulated LCD panel to help shoot it. These are both significant gains over its predecessor the D5000, and the improvements extend to the D5100 having smaller, neater construction and a more conventional side-mounted hinge for that LCD.
These changes resolve two rather awkward aspects of Nikon's existing lineup: if the D5100 and D7000 end up being neighboring models it will avoid the inelegant overlap that existed between the D5000 and D90. It also ensures a more elegant appearance to the models themselves (the D5000 was many things, but pretty wasn't one of them).
Although the D5100 is listed as having an Expeed 2 processor, it's worth remembering that Nikon doesn't use this naming system to denote any specific components, so the actual chunks of silicon and capabilities aren't necessarily the same as those in the D3100 or D7000. However, in addition to a similarly specced 16.2MP sensor, the D5100 offers the same ISO settings as its big brother — extending up to an equivalent of ISO 25,600. It also inherits 14-bit Raw shooting — one of the factors that helps give the D7000 its impressive dynamic range — which is something Nikon used to offer only on its more expensive models.
Side by side
The D5100 is slightly smaller than the Rebel T3i/EOS 600D — probably its nearest competitor. Both are slightly larger than the Panasonic Lumix DMC-G2, which is built around a smaller sensor, and of course lacks an optical viewfinder assembly (instead using a high quality electronic finder). Ergonomically, the G2 is the most 'involved', and has the most physical control points and a touch-sensitive LCD screen, but overall the three cameras are physically quite similar.
Nikon D5100 Key Features
16.2 megapixel DX-format CMOS sensor
Side-articulated 3.0″ LCD monitor (920,000 dots)
11 AF points (with 3D tracking)
IS0 100-6400 range (Up to 25,600 equivalent when expanded)
HD movies (1080p, 720p or WVGA)
4 fps continuous shooting
In-camera effects filters in both stills and video modes
Compared to D5000
The D5100 is a smaller and (we think) more attractive camera than its predecessor the D5000. It is less bulbous, and closer to the D3100 and D7000 in terms of styling. The most significant design difference is the addition of a side-hinging LCD screen in the D5100, as opposed to the bulkier (and more awkward) bottom-hinged LCD used in the D5000.
Key Differences
Higher resolution sensor (16.2MP vs. 14MP)
1080p video mode
Wider ISO range (100-25,600 equivalent)
Full-time AF mode (AF-F in live view)
Dual IR receivers (front and rear)
Side-articulated LCD screen (as opposed to bottom-articulated)
921k dot LCD screen
14-bit NEF (Raw) mode
Effects modes
Compared to the D3100 and D5000: major feature and specification differences
As you can see from the table below the D5100's specification is a significant advance over its predecessor, and substantially in advance of its little brother the D3100.