photoshoot ideas
5 Photoshoot Ideas Worth Stealing
Running dry on ideas to push yourself and your photography portfolio? Here's 5 ideas worth stealing. Perhaps one might catch your attention, or inspire to you do something similar. Or very very different.
1. Photograph one of your grandparents extensively. Might sound boring, but I assure you it will be profound. If you're lucky enough that your grandparents are still with you, spend an entire day–or better, a week perhaps–photographing your grandma or grandpa. 1,000 images at least. Portraits, close ups of her eye, her hands. Fill the frame with her face. Photograph her in her home or wherever she lives, those places tend to be visually wonderful and strange at the same time. Amazing still life's everywhere… You'll connect with your grandma in a very deep way and you'll have made some amazing photographs. And when he or she passes on, you'll have the world's best images to remember them by. Cost: $0.
2. Flood a space with an inch of water. Have a dancer perform, or some sports stuff, shoot from overhead. Capture an ethereal moment of where it looks like someone is performing on water. Shoot any, some, all of this from a tall ladder. Or flood a tennis court and shoot some crazy cool shots. Logistically this isn't as tough as it sounds. You'll need the right space, some visqueen and sandbags, and a good bit of water, but this could be a portfolio opener. Some really cool post production will take this shot to the moon. Think of the reflections and the depth. Estimated costs: under $500.
3. Get 5 friends to drive their cars onto the freeway at bumper-to-bumper rush hour traffic… Have your friends jockey their cars into position s > —
…you realize that you're breaking the law and get caught, that you're putting people at safety risk (moderate) and inconveniencing 1,000 people (although just for 10 seconds). Disclaimer: I'm not recommending this. If you do this one, you didn't hear it from me. It's illegal and dangerous. But I might get this image before you do
4. Roadtrip with a twist. Take a trip with 4 of your best friends out to the coast camping in the summertime, or the desert in the autumn. Tell them to bring interesting clothes and props. Whatever they can dig up. Seek the strange. Stop off at a thrift store and buy some strange stuff that will act as muses for you. Shoot at least 500 images…all the 'off' moments, not single posed image. And here's the kicker. Do it with film. The oldest film you can find, expired Portra 400 color print film. And an old camera. A holga perhaps, or an old hasselblad (cheap rental). Or (gasp) a 35mm point and shoot. Get the negs scanned at the local lab when you get home. Price: Gas plus food plus $400 in film expenses. $40 in junk from the thrift store. You'll get priceless moments of those people closest to you. And you'll be experimenting all the while…
5. Find a huge trampoline on a perfectly blue-sky day. Get a couple models–friends, pros, whatever. Dress them up really interestingly…fashion, sports, whatever. Wait till just before sunset then hose them down–I mean soak them– and have them bounce on the trampoline, over and over, high into the deep blue sky. Photograph them from your position on the ground so they're floating in a sea of blue. With some interesting post production and the rich light of sunset, it'll seem like they're underwater, but not. It'll read very surreal.
So, obviously, whether or not these ideas are worth stealing is completely up to you. The real point is that I came up with these ideas in 5 minutes and you can too. You can do better in fact, because you know what you like to shoot. But perhaps even more important than what each of us does with any particular idea, is the underscoring f the notion that ideas aren't meant to be hoarded, they're meant to be shared. Create yourself as an idea machine. Appropriate ideas an put YOUR twist on them. After all, there are no original ideas, just variants on existing ones. Borrow ideas and give ideas away. Treat them like the fleeting and changing things that they are, and they will come back to you in hordes.
And btw, I recently used my dreams as the source for a photo shoot. Here's the result..
.
Photoshoot >
Here are all the best photoshoot ideas out there for amateurs and professionals alike.
We all have those days when we just can't get the brain juices flowing. Or maybe you want to try something new or just shoot in a new area. Everyone can use a little inspiration every now and then. Especially if you want to create something different. Here are some of our favorite photoshoot ideas for you to try, from desert landscapes to the coolest props:
Photoshoot Ideas: Desert Glam
Tired of endless cars and people getting in the way of your shot? Move it out to the desert. Where you'll have nothing but sand and dirt for miles.
Use that empty space to your advantage to create some negative space in your photos. Fashion photoshoots in the desert are some of our favorites as well. Take a look at Alberto Villa's work on The Hub. And, see how he contrasts the sandy backdrop with cool clothes for some amazing images.
You can even stick around after the sun goes down. To get some shots of the night sky when the stars are more visible. If your hometown doesn't have a desert of its own. The beach can be a great alternative for a similar look.
Try to go during non-peak hours to accomplish the same "deserted" look and shoot directly in the sand.
Photoshoot Ideas: Add a Mirror
While props can sometimes be a burden. When used incorrectly, a common item like a mirror can create an unexpectedly cool result.
Photographers like Robin Bigge use a mirror to photograph some stellar portrait images. They can also be useful if you want to tell a story or place them in an outdoor setting like above.
Another plus when shooting with a mirror, is that it allows you to see more of your surroundings. With an added dimension, both in front and in back.
Just be sure to not accidentally catch yourself in the mirror while shooting. Don't be afraid to experiment with different styles of mirrors, placement and lighting. The possibilities can be endless when you stretch your creativity.
Photoshoot Ideas: Play with Exposure
Lighting is one of the most important aspects of a photo. So, it only makes sense that you should play around with exposure to create something fresh and new.
One of the most popular methods to achieve these kinds of photos is a time lapse with long exposure. This will create light trails and other effects.
Tim McDonald uses a slow shutter speed combined with steel wool to create the circular light painting above. He also uses similar settings to achieve the light trails of the cars passing in the street while the rest of the image remains still.
When playing with the exposure in your images, try to cut out other light as much as possible. So, it doesn't affect your final image. You'll also want to have your tripod handy to avoid any movement while your shutter is open.
Photoshoot Ideas: Head to a Diner
What better place to channel your inner 50's vibes than a picture-perfect diner?
Complete with neon lights, tiled floors, and the cutest chairs. Diners are the perfect backdrop for portraits and other images. Sit at the counter and order a basket of fries that double as the perfect prop.
Or, get creative and set your model on the floor like Canyon Schmerse for a different perspective and angle. Don't be afraid of adding more props like colored sunglasses or retro outfits to make your photo even more unique.
And, don't forget to clean up any mess you make and be respectful of those eating around you.
Photoshoot Ideas: Get Crafty with Clothes
Add an unexpected element to your next photo shoot with a piece of clothing.
Use them as an added prop to create some dimension in your photos. Do this by having your model wear it in various ways.
These can be particularly useful if there's some wind in the air. So, you can capture a photo while the clothing is blowing in the wind like photographer Dusty Knapp .
Not a windy enough day for your shoot? Make your own wind and motion by holding the material yourself. It will look elongated with an almost 3D effect such as the photo to the right.
You can also shoot with different colored clothing, textures or at various times of day for a selection of photos.
Photoshoot Ideas: Add a Silhouette
Want to grab your viewer's attention in a split second? Use the lighting to your advantage for a stunning silhouette that stands out.
Create contrast in your image by using a lit background or even a reflection like Cory Large. K eep your ISO as low as possible to avoid grain and noise in your photos.
While you want to set your exposure for the background of your photo, focus on your subject so it comes out sharp and crisp.
Don't be afraid to adjust your contrast in Photoshop or Lightroom either. You can also create a double exposure effect using your silhouette and a lit background. Try incorporating elements like city lights or a galaxy to make your background pop even more.
Of all the photoshoot ideas, this one is bound to impress a sense of wonder and magic to your view.
Photoshoot Ideas: Use a Sphere
Not only can a clear sphere help you add a new perspective to your photos. It also captures the whole scene in a miniature image.
Grab a sphere (we recommend a Lensball) for your next photoshoot and experiment with different backgrounds and angles.
Don't be afraid to set it in the sand, grab a water shot or toss it in the air. You can even have your model hold up the sphere like Bryan Gwynn.
The size makes it the perfect prop to carry around. So, you can use it whenever inspiration strikes. Most spheres will also invert the image, so you're sure to get an unforgettable shot.
Have any amazing photoshoot ideas? Share your photoshoot ideas with us on social @h_collective
Related Posts
How to Get the Most Out of Instagram Collections
Preparing for Your Lifestyle Photoshoot
How to Prepare for a Photoshoot
H Marketplace
The 15 Best Fashion Photographers in Portland, OR
30 Great Photographers Around The USA
Aerial Photographers With A Bird's Eye View
Apply to join our growing community of talented creators.
H Marketplace
The 15 Best Fashion Photographers in Portland, OR
30 Great Photographers Around The USA
Aerial Photographers With A Bird's Eye View
30 Destination Wedding Photographers Exploring The Globe
Apply to join our growing community of talented creators.
We're changing the way you hire creators.
Need a photographer for your next project?
12 Fun Photo Shoot />
Thinking of a fun photoshoot with your friends? That's sounds like a terrific idea! There is nothing like sharing fun moments together and then capturing those memories forever with a photoshoot. But clicking a perfect photograph is more than just a casual click on the camera button. You need to get creative with your imagination and get into the mood while getting clicked.
You can the capture subjects and emotions you want to convey by taking into consideration some important aspects such as lighting, location, and context of the photo. These things will make a great difference to a group photoshoot. One other aspect to consider is how to pose. This gets confusing particularly during a group photoshoot. The only thing to consider is to immortalize the moment with a good picture – something happy and fun that brings back fond memories. Here are some brilliant shoot ideas to consider for a group photoshoot with friends:
Bring out your playful side
Bring out your playful self together by using something to play with such as soap bubbles. Soap bubbles look great in photos as the bubbles act as prism and look like mini balls or rainbow. This photoshoot will look very colorful and fun but you can enhance it further by adding more colors to it. Dress up in colorful clothes and put on some cool sunglasses to double the fun.
Vintage railway track settings
This one will bring you down memory lane like no other and will let you see how you have evolved during the years. A railway track doubles up as a retro setting and looks very cool. It adds a depth to the picture and at the same time is perfect for />
How about having some beach fun with your friends and capturing that moment forever? If you are heading to the beach with your friends, then you can definitely try this one out. You can use a canvas boat and pretend to pull it like it's damn heavy. This will look very unique and come out amazingly well in a picture.

Some parking lot fun
Get into the parking lot tomfoolery and capture the most fun moments together. This will be the most unusual photo />
Make your best smooshy faces
Party spirit
Get into the party mood by getting dressed up in your best dresses and get started. You can use something like glitter or colorful paper bits as prop. You can blow these sprinklers off and let the camera capture the best moment together. This is a great pose to try with your best bud.
Flower girls
If you and your best friends have love for florals in common, then this is great photoshoot />
Underwater shenanigans
If you and your best friend are daredevils and love to do adventure stuff, then you got to try this one out. This will come out as such a unique photograph that will blow your mind. Since this is an underwater photo />
Get all girly and fun with this photo />
Flower power
Summer squad
Do something silly and fun with your girl squad and let the world know that you girls are the coolest. Get crazy with your girl gangs, try silly poses, have some fun, and don't forget to try this pose especially. Get dressed in colorful beachy clothes and let the playful sky be the best backdrop for your picture. Also, this sends a message that your squad works as a great team and won't let go no matter what.
Laundry mischief
If you and your best friend like to do wacky stuff, then this one is a great photo />
Outdoor Photoshoot >By Shannon Ciricillo / Updated December 12, 2019 / Photography Tips / portrait
When planning a photo shoot, one of the first decisions you need to make is where it will take place: location, location, location.
Whether you are located in the city, the suburbs or in a more rural area – there are plenty of creative ways to discover new backdrops for your images.
To help you get the ideas flowing, we have created a list of 10 outdoor concepts for you to try on your next photo shoot with a model.
Let's check them out below …
10 Outdoor Photoshoot >
Using the beach as your location offers an array of options for your shoot. For example, if you are shooting at a tropical beach in Florida, you will have crystal clear waters and beautiful sand. For a beach on the west coast in California, the landscape will have mountains in the distance, rocks to climb on and elevation that will offer depth.
Beach settings in Europe may be situated in small quaint towns that infuse a travel perspective into your portrait. When using the beach as your location, be sure to shoot a mixture of images on land and in the water. The juxtaposition of texture and color from sand to sea will definitely give a visually engaging look to your work.
2. Open Field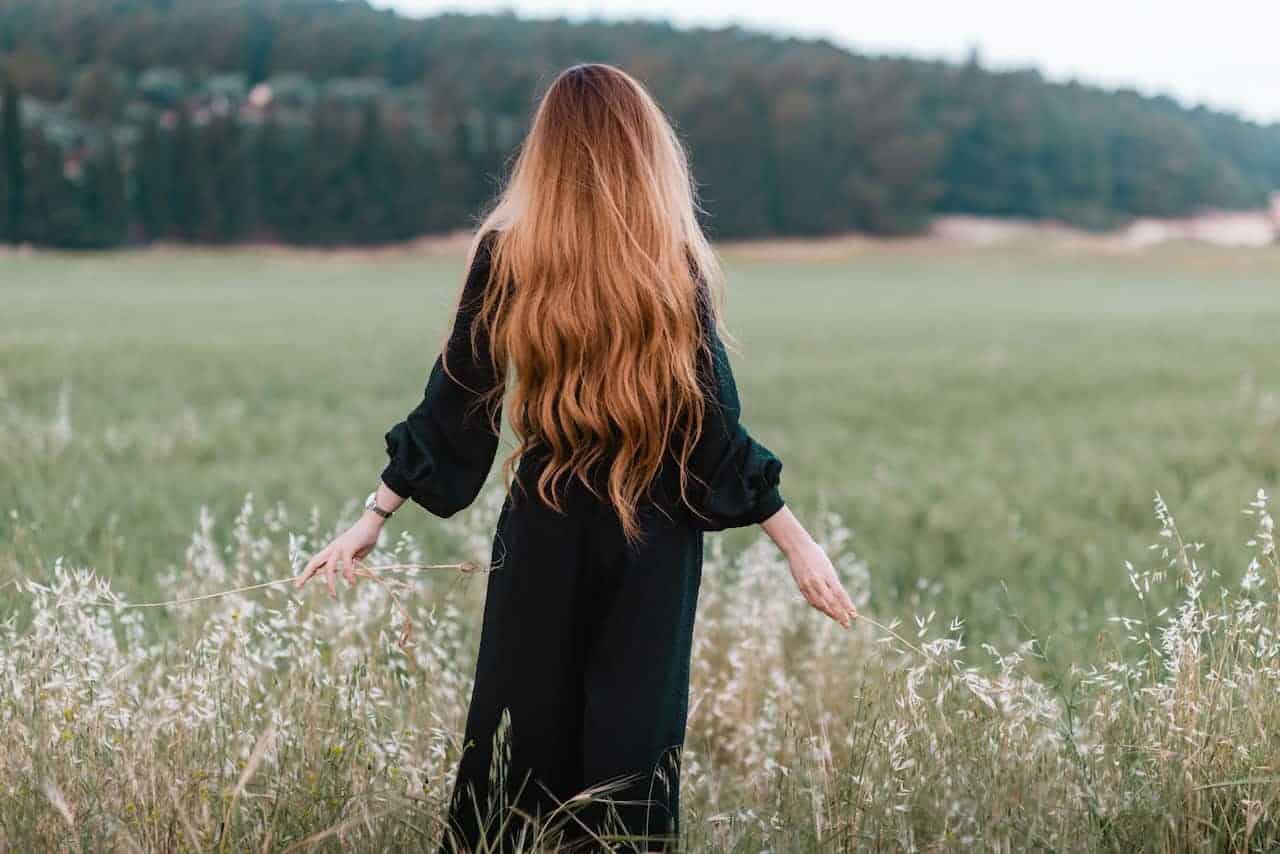 Our second location idea for outdoor shooting is to use the landscape of an open field. In this situation, you want a field that is flat and long, in order to create perspective and depth in your images. This can be a place with budding green grass or even a field full of flowers – as long as there is a vast space to place your subject.
When shooting in an open field, you should focus on creating different lengths between you and your model. Compose up-close portraits, full body shots with a small distance between you two and then increase the distance as to have your model immersed into the landscape. Since an open field does not have distracting surrounding elements, capture a range of perspectives. This means you can have your subject lay down within the grass or you can angle upward capturing more of the surrounding sky.
3. Cafe / Coffee Shop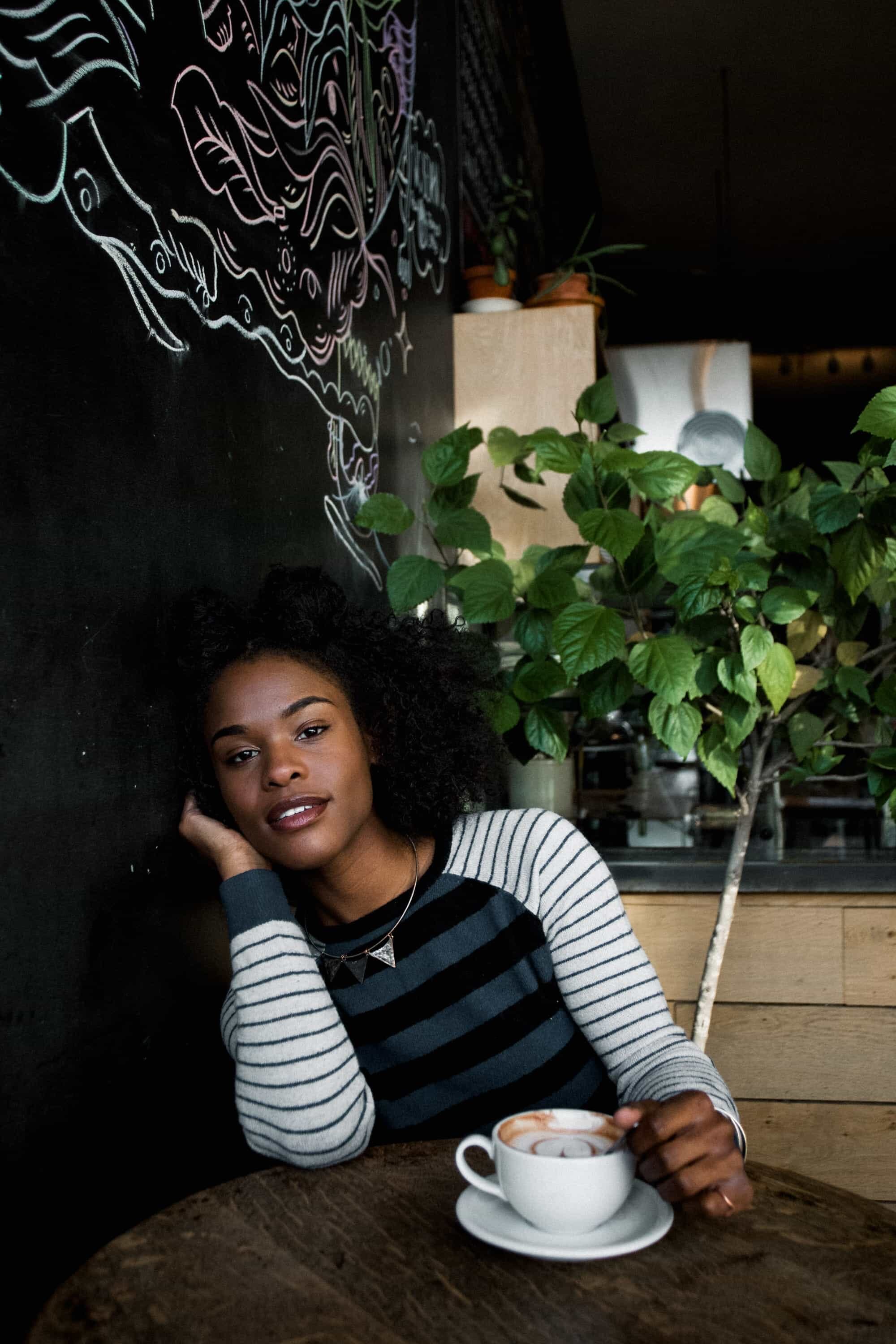 Using elements and places in your city is a great way to create creative portraits. The cafe scene is a popular > storytelling element. Cafes and coffee shops can be found in every city and most have some visually aesthetic appeal such as a design or color scheme.
Additionally, coffee shops and cafes allow for various methods of composition. Your subject can be seated, standing, inside the cafe, through the window or out on the terrace – the possibilities are endless.
4. By the Pool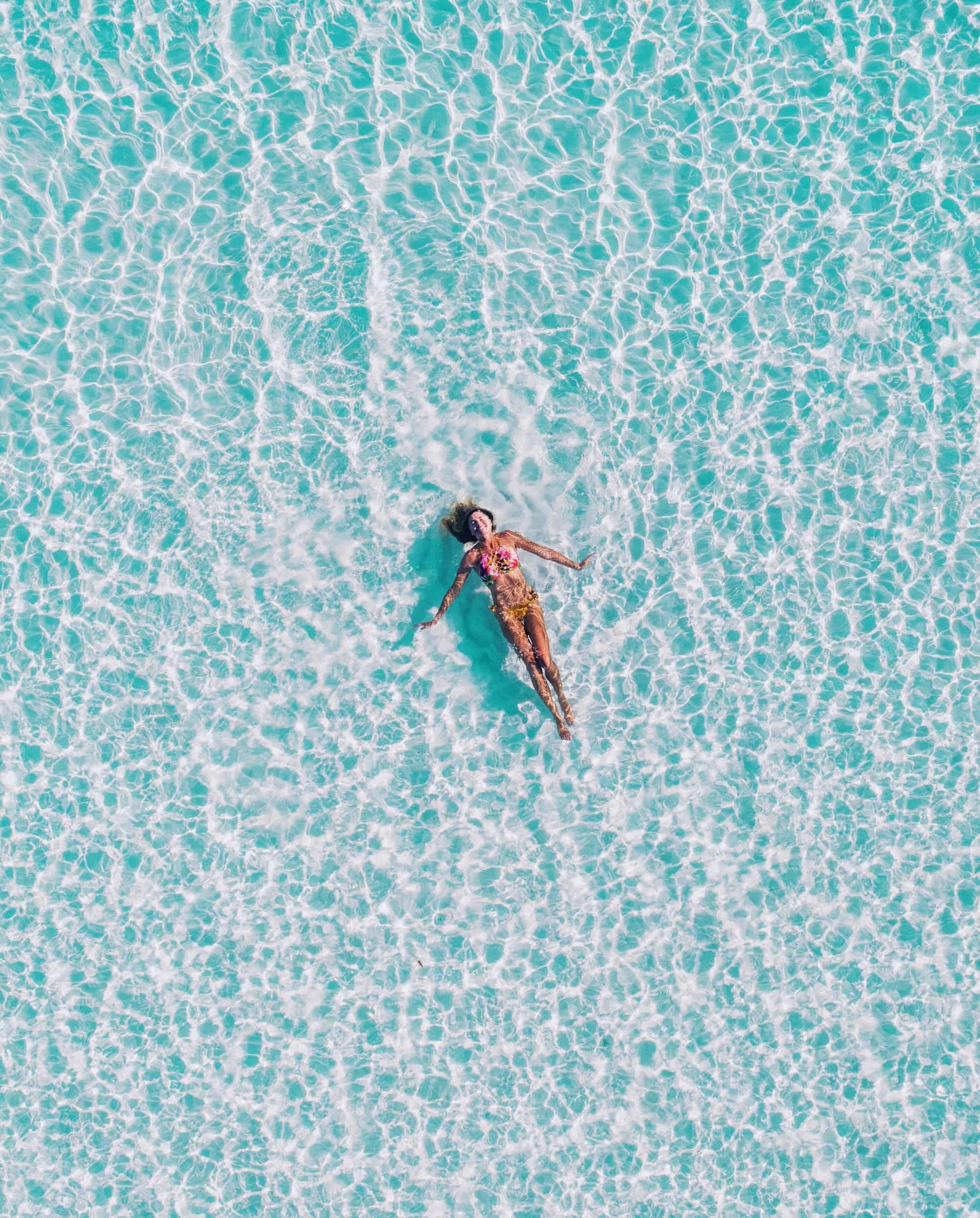 Photographing your model poolside is an ideal option for the summer time. You can pull inspiration from shoots at a retro motel, place your model in a colorful chair or even have them fully immersed in the blue water – just be sure to add waterproof protection to your gear. Using the pool as your location is often seen in commercial work such as for swimwear or sunglass brands. Creating concepts shot by the pool is guaranteed to make your work look professional.
5. City Streets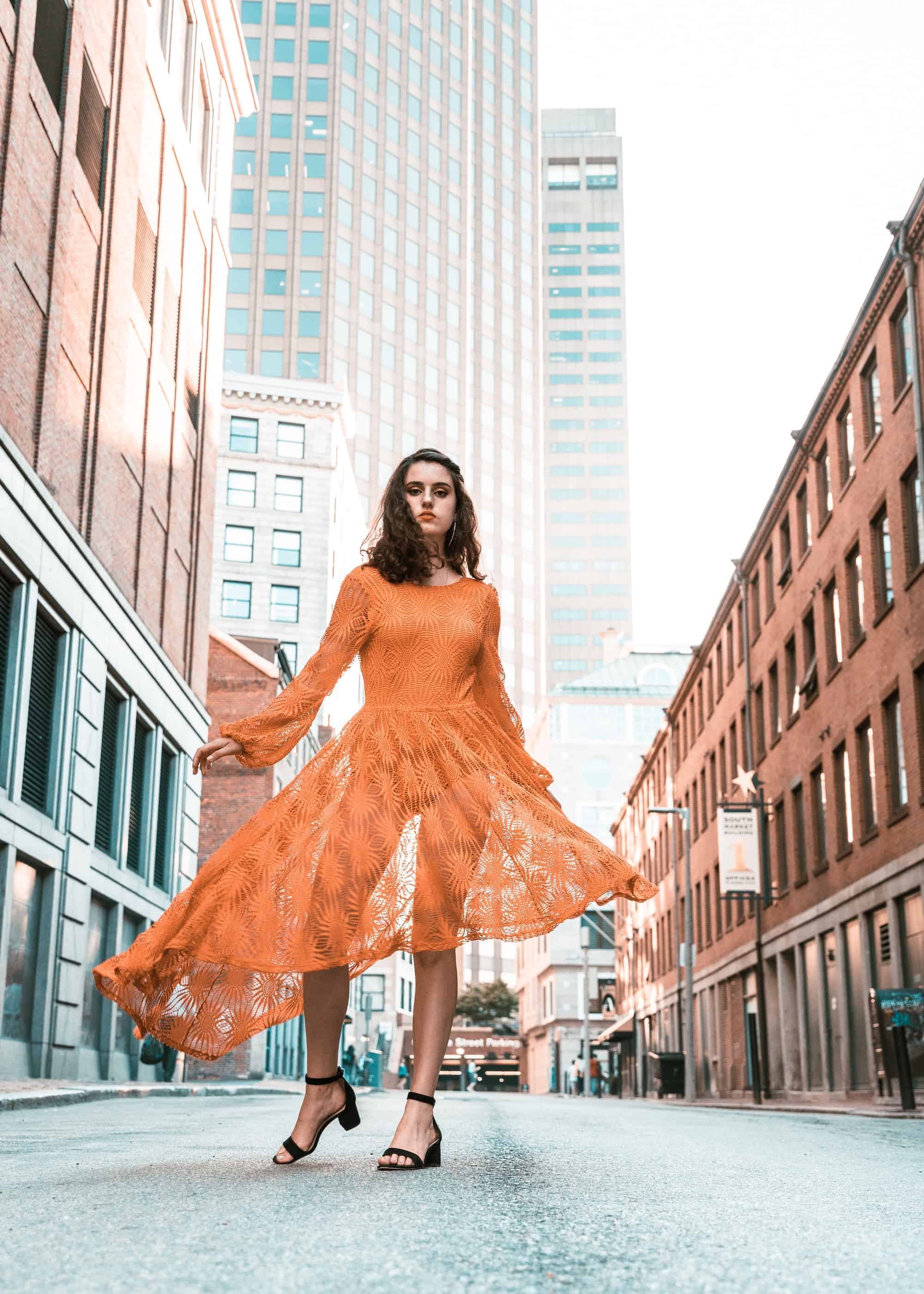 Depending on which city you live in, using the streets as your location is guaranteed to create unique and personal images. It is noted that photographers who shoot their subject in a city setting often create a representation of how they view that city.
For example in New York, a photographer who feels drawn by the elegance of the Upper East Side may photograph their model on the steps of a chic brownstone. While another photographer who values the urban industrial side of the city may find themselves in areas of Brooklyn such as Bushwick.
No matter where you choose to photograph your model, city streets offer the element of life into your images. You will be guaranteed to have taxis zooming by, stunning architecture and the movements of people surrounding you.
A great way to photograph your model in a city is to aim for a center, in the streets perspective. This allows you to compose a shot where your model is the focus and the city delicately fills in the surrounding frame.
6. Tennis Court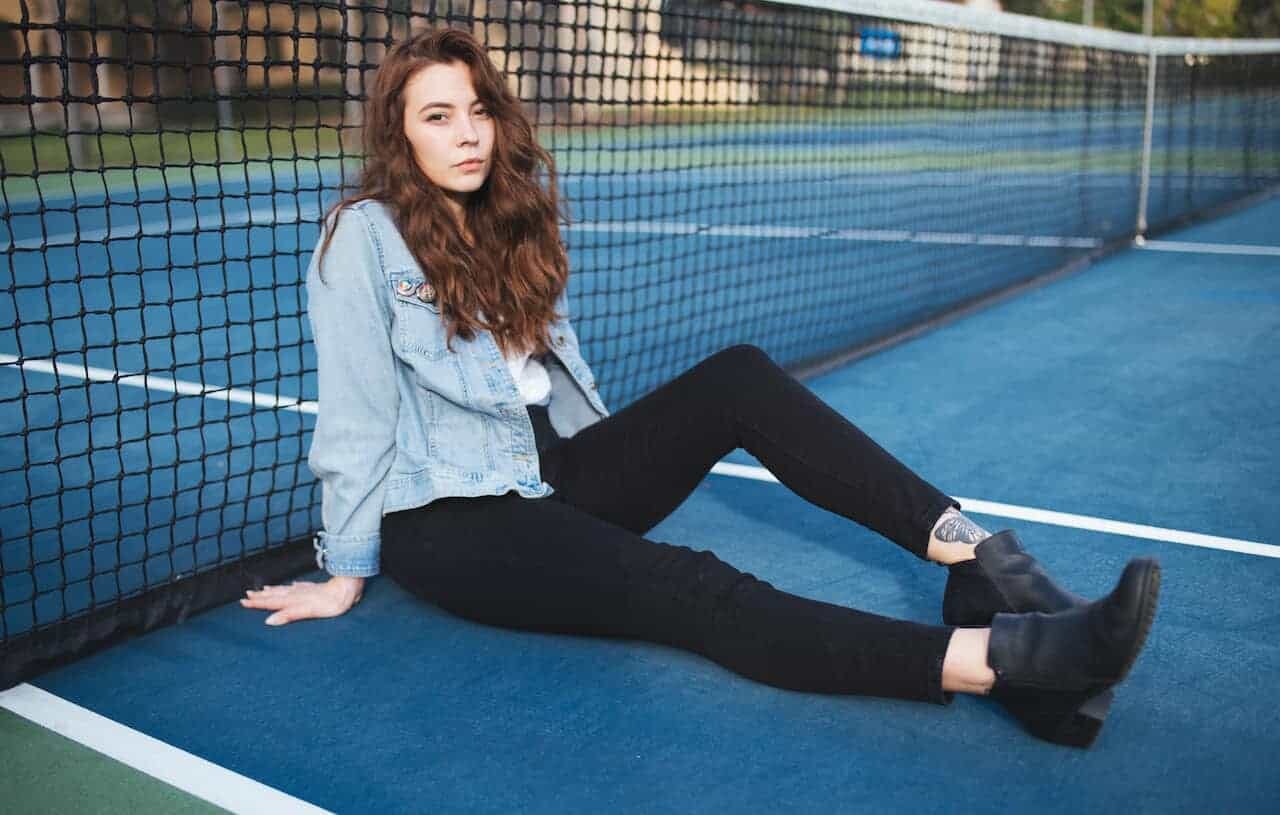 Using sports-related locations does not always call for an athletic shoot. In fact, a great example of using a location for a creative idea is a tennis court. Since the court offers depth, a juxtaposition of lines, and varying ways to play with light – you are guaranteed to be able to conceptualize images that are visually captivating.
A great trick to create portraits with intriguing light is to use the court's net to play with shadows and patterns on the frame of your subject. Additionally, since most tennis courts are wide open with little shade, you will have plenty of light no matter the time of day. This can create soft textures in the early morning or evening hours and more potent, dramatic light in the middle of the day.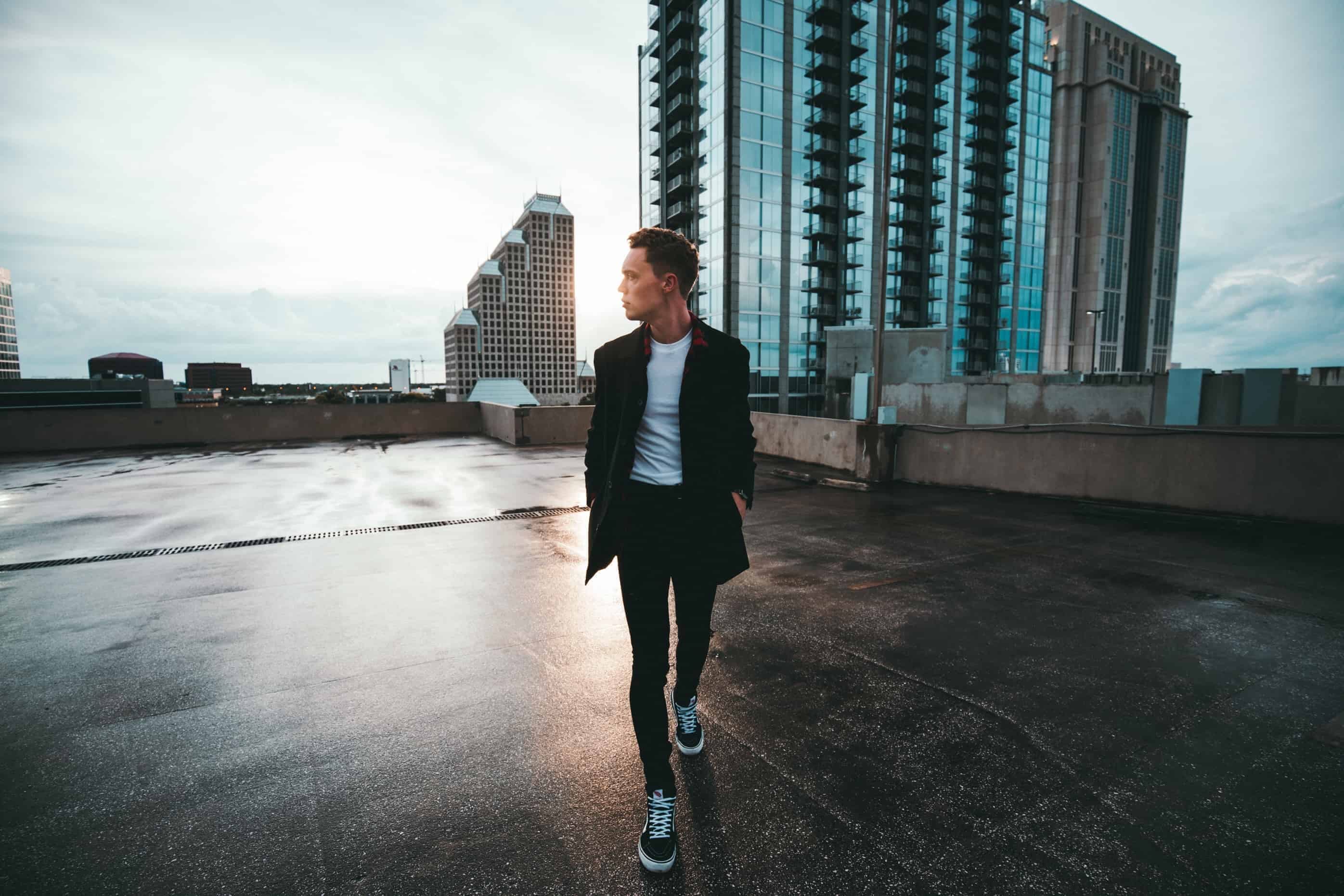 If you're looking for a location that offers depth, wide open space and flattering light – you need to consider shooting on a rooftop. Rooftops are ideal locations because they capture the essence of a city without the distractions and interruptions that can occur on the streets. When shooting on rooftops, you can choose options such as a traditional building or even the top of a parking garage.
Shooting on a rooftop is also a location that offers optimal light no matter the time of day. You can catch the sunrise in the early hours, create dramatic portraits in the middle of the day, warm images when the sun dips below the buildings and even portraits in the night sky, illuminated by city lights.
8. Backyard / Garden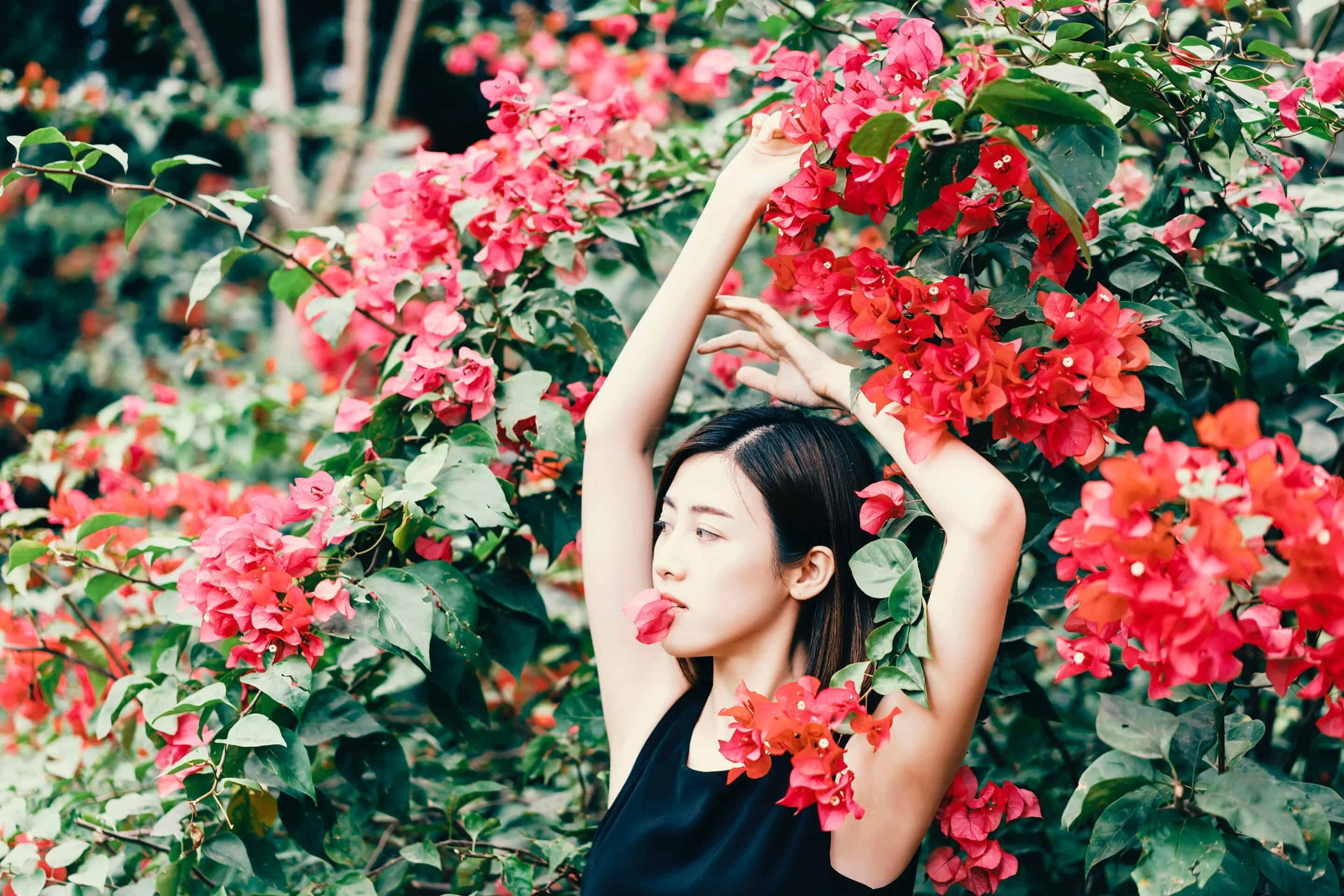 Similar to photographing your model in an open field, using a backyard garden can give your images a dreamy, romantic and ethereal feel. With the hues of greenery and the assortment of flowers a garden provides, you can use the tones and colors to highlight the feminine nature of your subject.
A great technique for composing portraits in a garden is to use the flowers to frame the model's face and figure. You can also choose to add additional props and elements to create a storytelling aspect to your shoots such as a white sheet on a clothing line, lawn chairs or blankets.
9. Mountaintop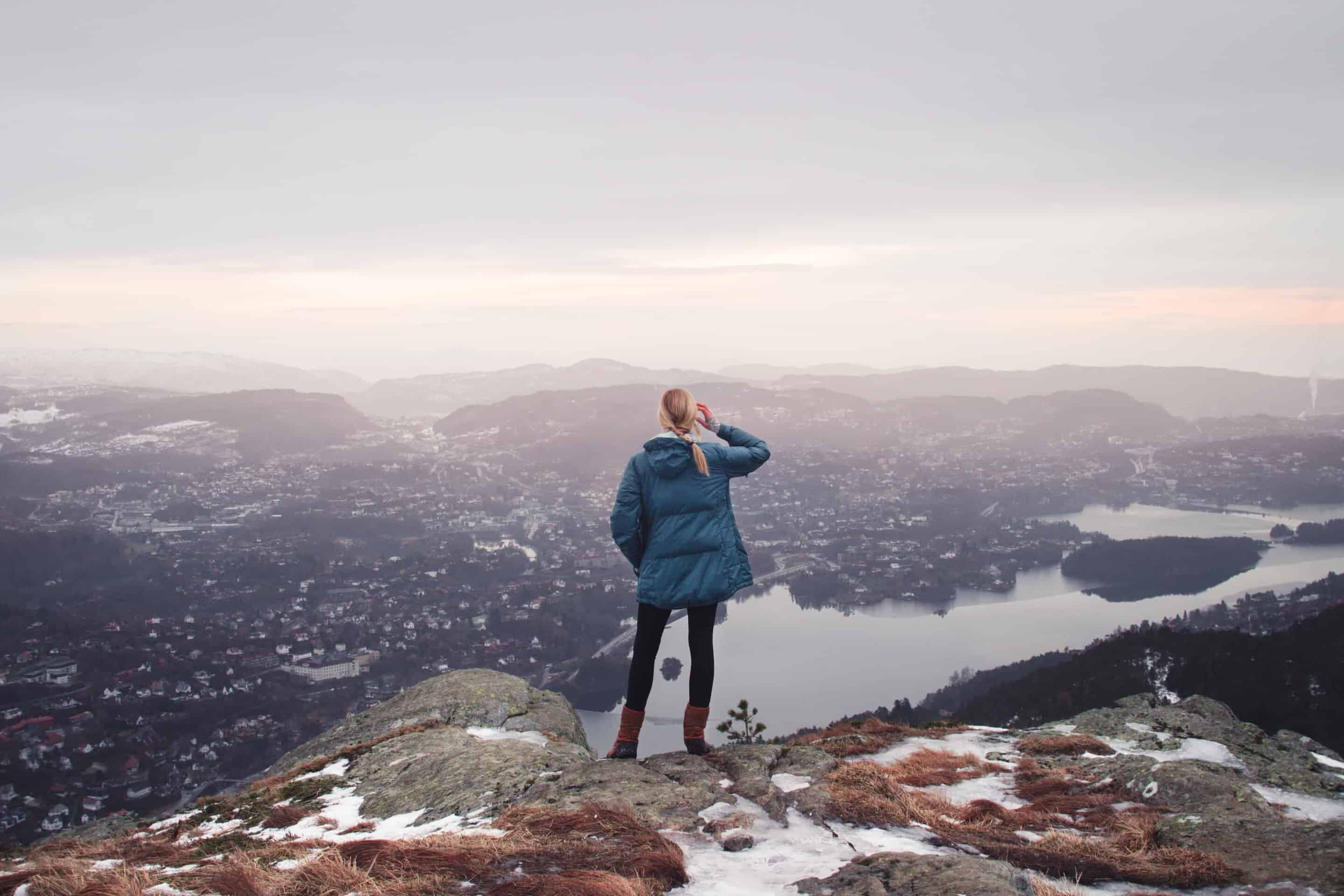 For the adventurous photographers and models, using a mountaintop for your location can be a great way to create portraits with depth. When photographing in wide open spaces, you are able to infuse the design of nature and the frame of your model into one visually captivating photograph.
Using a mountaintop can be ideal for the photographer interested in working with outdoor, lifestyle brands and companies. From the likes of brands such as North Face or Patagonia, using the rustic and awe-inspiring visuals of peaks and valleys can help you create a portfolio of daring, bold and unique images.
10.Industrial Background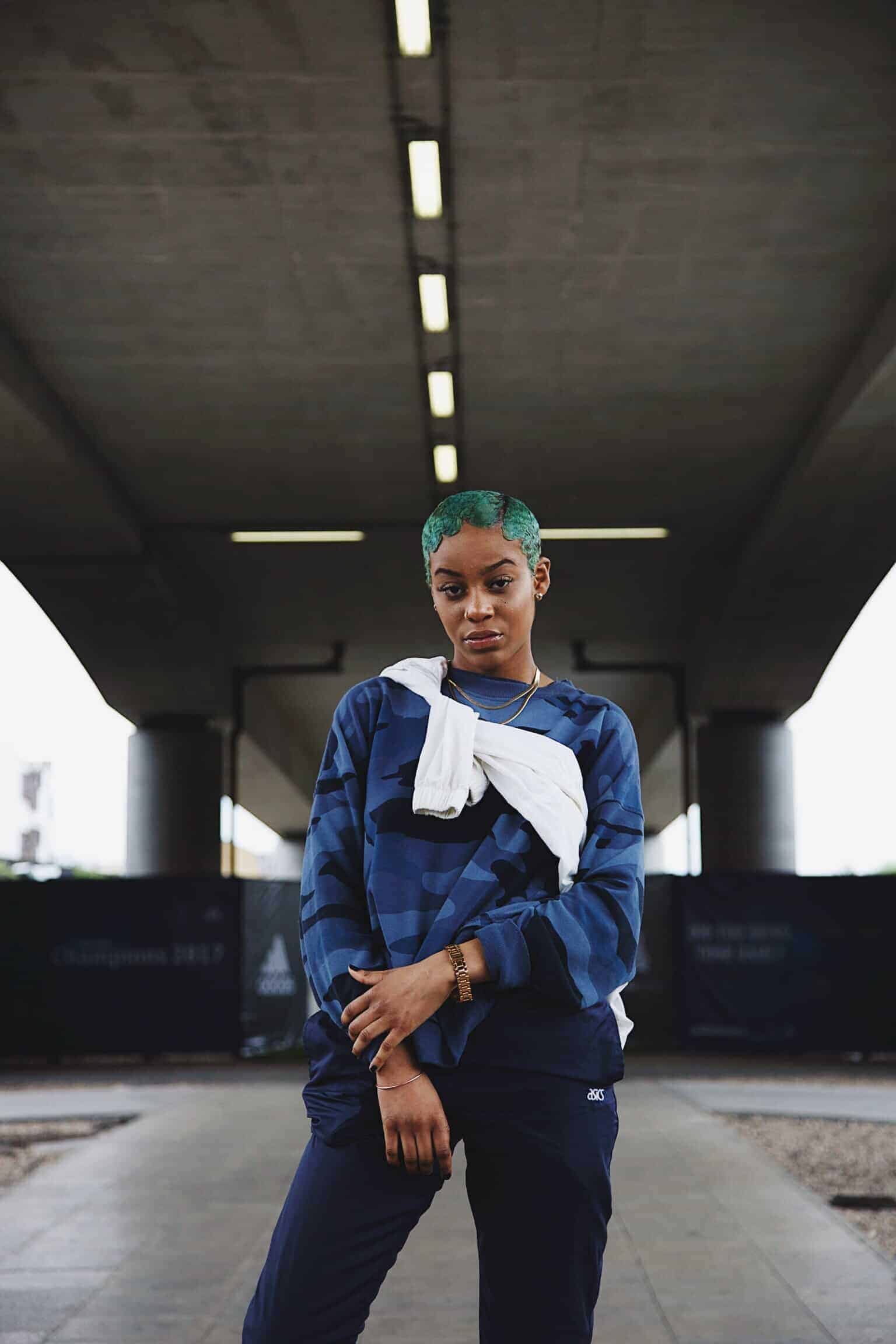 Our last idea for an outdoor photo shoot is to photograph your model within an industrial backdrop. In this situation, you can utilize areas such as underneath bridges or overpasses, against metal garage doors or even graffitied walls.
Industrial and urban settings create a definitive contrast between your location and subject. With the beauty of your model and the lack of obvious visual appeal of your background, you can create strong, impactful portraits.
As you can see, there are a wide variety of outdoor options to use as your next photo shoot location. From city streets and rooftops to sandy beaches and rocky mountaintops – you are guaranteed to capture creative and engaging imagery of your model.
Do you have any favorite outdoor photoshoot locations? Share your thoughts and suggestions with us in the comments below!
50+ Adorable Couple Poses for Beautiful Portrait Photography
Published by 500px Blog • 4 weeks ago
In the world of couples photography, business is booming. From the Target-themed engagement photoshoot that went viral this summer to the growing popularity of hiring honeymoon photographers, the last year has been full of headlines about fun new trends taking over the industry.
For couples young and old, photoshoots offer the chance to express their individuality and share their stories with the people they love. According to a 2017 survey conducted by The Knot, 38% of couples share photos of their engagement within minutes or hours of popping the question.
At a time where most of our photos end up lost in the cloud or on our phones, a professional photoshoot serves as a timeless, enduring reminder of cherished memories. It's hardly any wonder that the couples photography genre is thriving. The 500px team has put together this guide to cute couple poses for your photoshoot. There's something in here for everyone–from the classic to the cutting-edge.
To get the most out of your next photoshoot, the 500px team has put together this guide full of cute couple poses for you to use for your couples or wedding photography. There's something in here for everyone—from the classic to the cutting-edge.
Preparing for your couples photoshoot poses
One of the key things to do to prepare when doing couples photography, is to create a gallery of photos to serve as a moodboard and to track inspirations and references. This is a helpful tool to communicate the look and style you're going for with your clients and crew, like hair and makeup artists.
Before the shoot, go over locations and wardrobe with the couple. Have a conversation without your camera first, and show them examples of photos you love, and ask for their feedback. Let their personalities dictate which poses you choose. If they have their own ideas, add them to your shot list.
Get to know your couple and their dynamic before your shoot. Listen for details about how they communicate with each other and what they're passionate about.
Poses and Inspiration for Couples Photography
Hugging and looking at the camera
This pose is a perfect starting point for any couple's shoot because it's both intimate and comfortable. Just ask your models to hug as they normally would, with their faces close together.
Hugging and looking at each other
For this shot, have the couple hug and make eye contact with one another.
If you're working with a couple for the first time, it can help to start from a distance before gradually moving closer. Wide-angle shots tap into the "tiny person, big landscape" trend, showcasing both the beauty of the location and the relationship between partners.
Hug close-up
Hugging is a versatile pose, so zoom in to capture all those little details. You don't even have to include the faces—the embrace alone will help tell the story.
Hug from behind
This classic pose brings the couple closer together, while also providing an opportunity for romance and introspection. It can help to direct the couple a bit here—; maybe they're looking in the same direction at a beautiful landscape, or one of them is turning back for a kiss.
Looking into the distance
This pose can serve as a powerful metaphor for the couple's dreams and future together.
Lift-off
Lifts are one of the more versatile couple poses, so let your models have fun with it. Maybe they prefer a Dirty Dancing-style lift, or they go for an 'over-the-threshold' moment following a wedding.
Ring shot
If your couple is married or engaged, use their hands and jewelry to share their journey.
From above
Grab a stool or a ladder to photograph an embrace from an unexpected vantage point.
Lying down and facing the camera
You can do this pose at home or in the great outdoors, as long as the couple is comfortable.
Lying down and facing each other
For this pose, your models can lie flat on the floor with their heads turned, or they can prop themselves on their elbows to look into each other's eyes.
A romantic walk
The changing seasons pose unique opportunities for couples photoshoots, from falling autumn leaves to soft winter snow.
Park bench
While you're on a romantic walk, give the couple time to rest and relax. They'll appreciate the break, and you'll get a chance to capture more candid, spontaneous interactions.
Foreheads together
To underscore that sense of intimacy and trust, have the couple press their foreheads together.
Holding hands
Take wide shots of the couple interacting with the landscape, hand-in-hand, or zoom in on the hands themselves for an intimate yet universal image.
A night on the town
Prior to the shoot, get to know whether they want to do a photoshoot during the day or if they are interested in night photography. If they opt for a night shoot, consider making a "date" of it. Organize an activity the couple enjoys, and capitalize on some of those beautiful artificial lights you'll have at your disposal.
Stylish details
Your models will have put a lot of thought into what they wear, and hopefully, you will have discussed clothing in advance of the shoot. Take advantage of pretty details like jewelry, hairstyle, shoes, and outfits by honing in on these elements —you'll capture the couple's personal aesthetic and vibe.
Whispering
Asking a couple to whisper things in each other's ears is a great way to break the ice. Depending on their personalities, they can say anything they'd like, from the romantic to the humorous.
A forehead kiss
This sweet kiss helps set a more serious, romantic mood and works well in the middle of a shoot when you're all comfortable with each other.
A kiss
Kissing is personal and intimate, so whenever possible, let the couple know in advance that you want to include some in your shoot. Don't fret if the first few kisses are awkward; give your models time to get comfortable in front of the camera, and remember to provide a casual, encouraging environment.
An almost-kiss
Often, the moment just before a kiss makes for an even better photo op than the kiss itself. You can even ask the couple to pause for a second and look at each other before (or after) each kiss.
A 'secret' kiss
You don't have to see the kiss for it to be effective. Use a cute prop like a hat or balloon to hide the couple's faces while they enjoy a kiss in private.
20 Fun and Creative Best Friend Photoshoot > May 10, 2016 by Idea Stand Leave a Comment
Taking a picture is about a lot more than just grabbing a camera and clicking a button. Taking a picture is all about capturing moments and emotions, as well as relationships, and making memories to look back on later or share with others.
While subjects and the emotions they want to convey – or the situation they want to remember, in some cases – are the most important aspects to take into consideration when taking a picture, things like lighting, location and context should also be kept in mind when taking pictures, as they will make all the difference between getting a good picture – one that makes you happy and actually brings up fond memories – or one you want to bury or even scrap/delete altogether.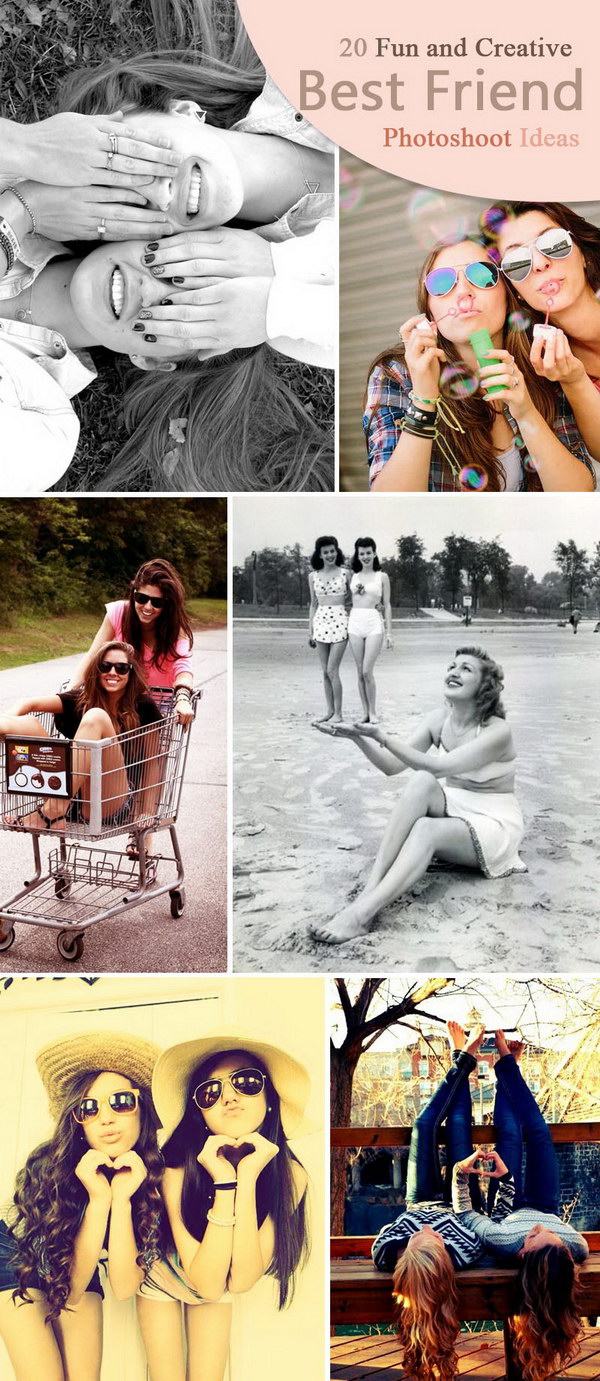 Curious about how to take the perfect 21st century best friend picture? Then read on to find out more about all of these tricks and ideas. Better yet, call your best friend over and read this article together, so you can start practicing for your next photoshoot right away and get perfect shots every single time without fail from now on.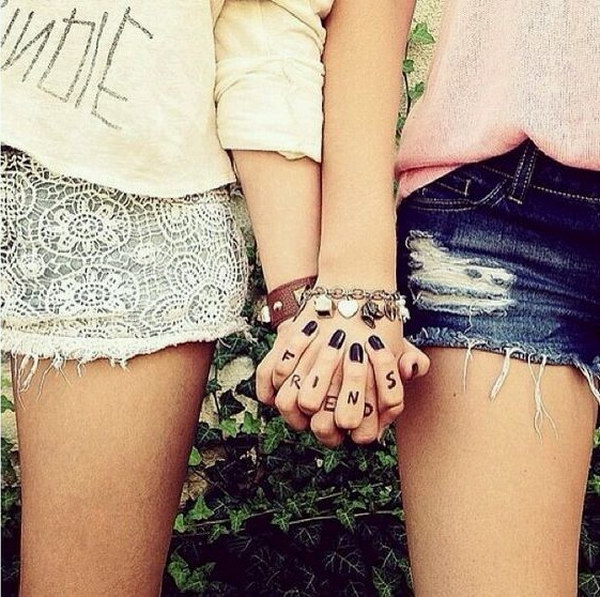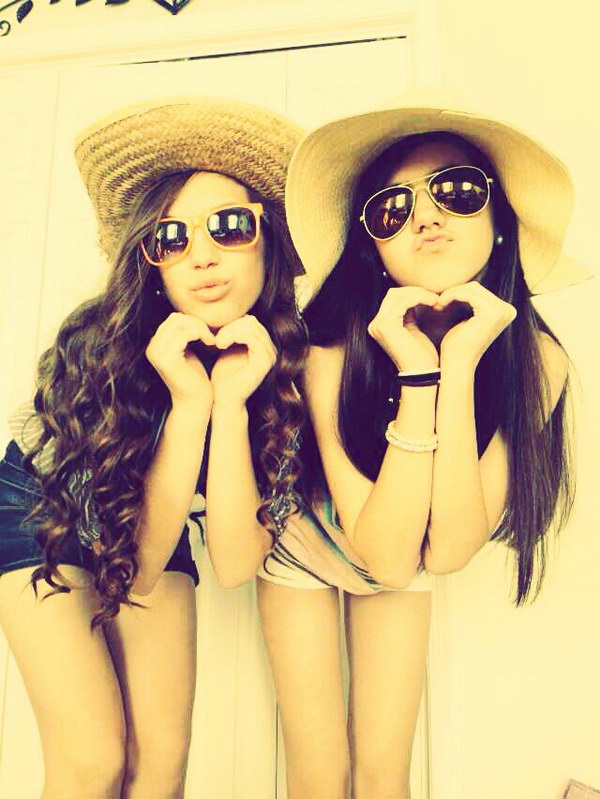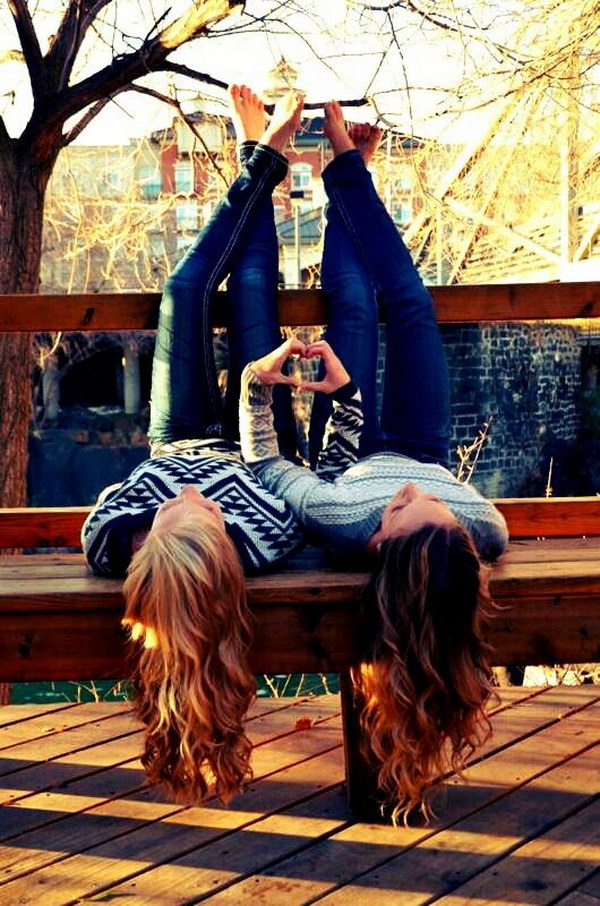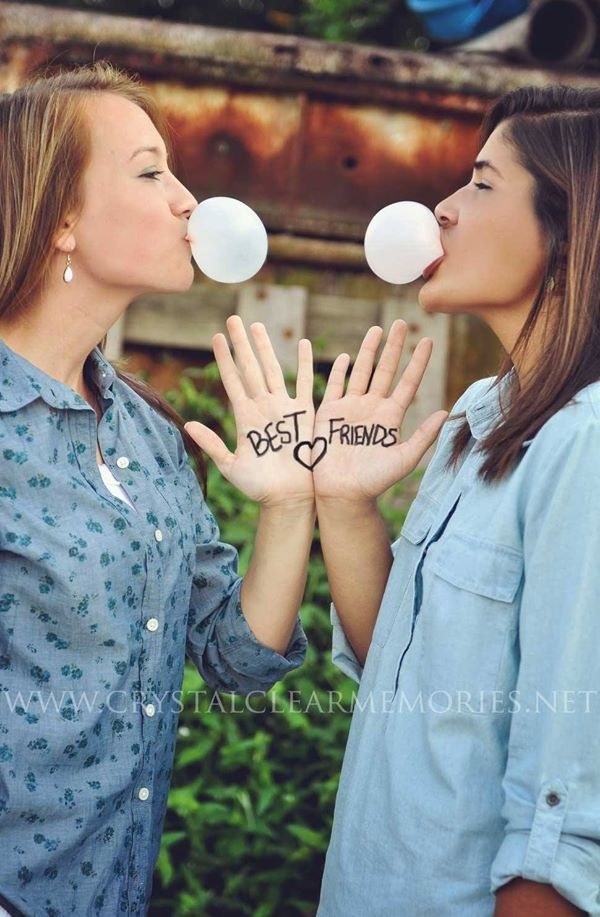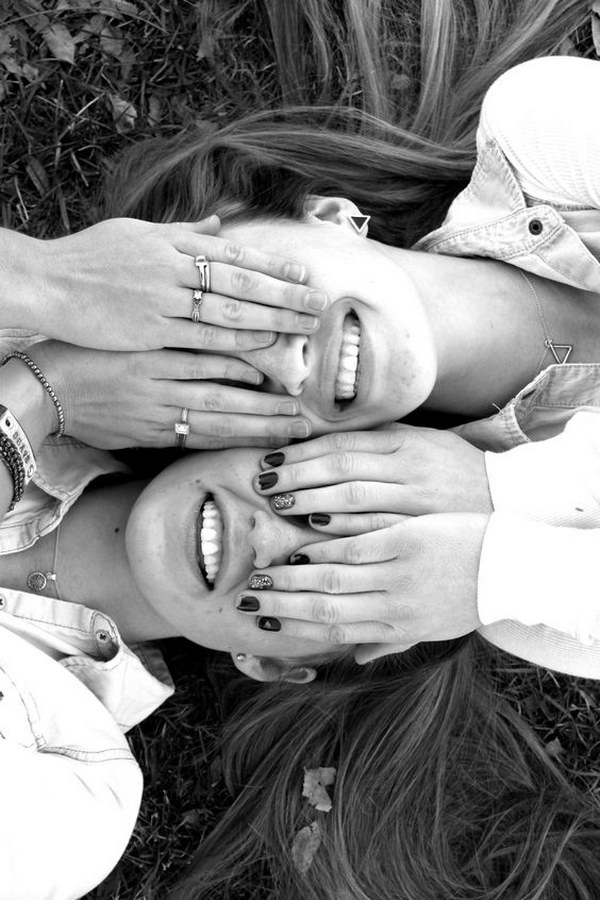 Best friend pictures are very special. They represent a relationship that is very unique, as it is not forged by blood but rather life and genuine empathy. On top of that, they also represent a particular moment and stage of your life, which is why they usually bring up fond memories.
The pictures you take with your best friend can be a lot like a visual chronicle of your life, as they will show you at different ages and phases of your relationship. They will also allow you to look back on past fashions and trends, and how both of your styles, as well as technology and photography trends, evolve over the years.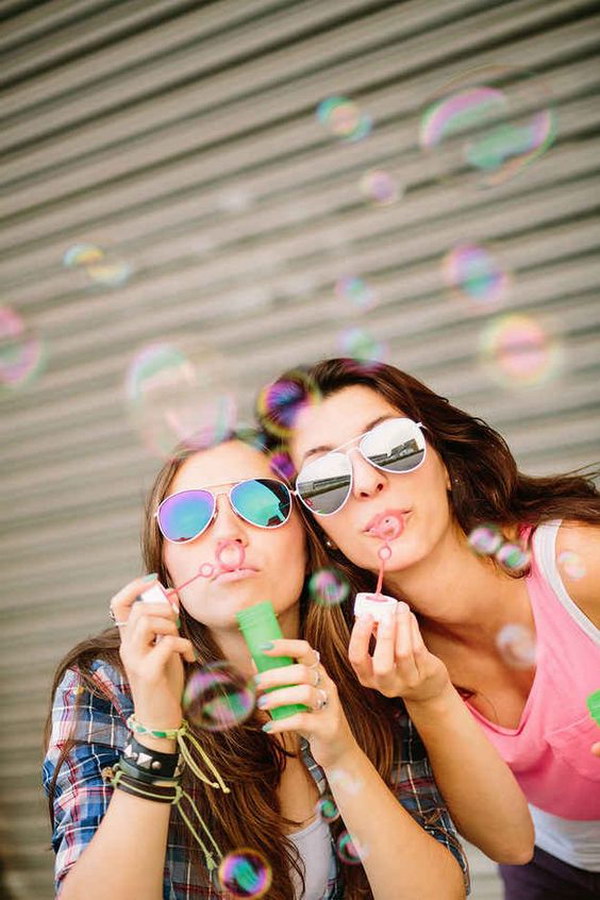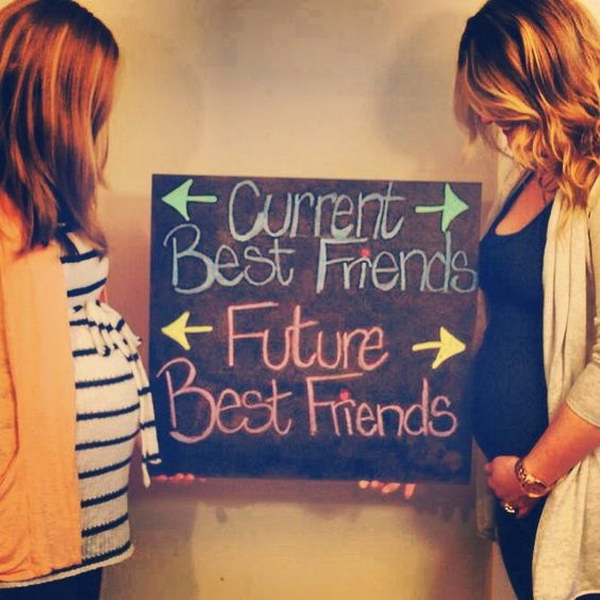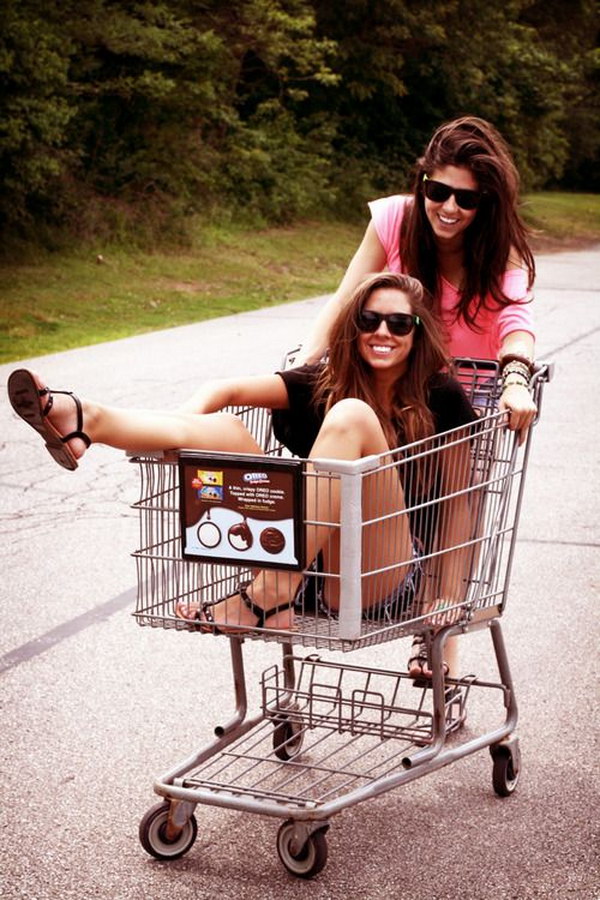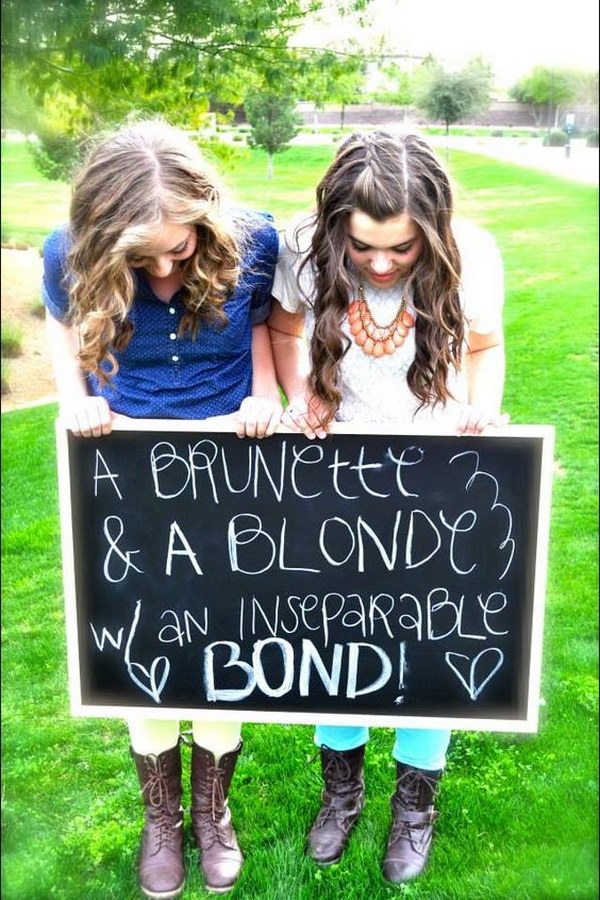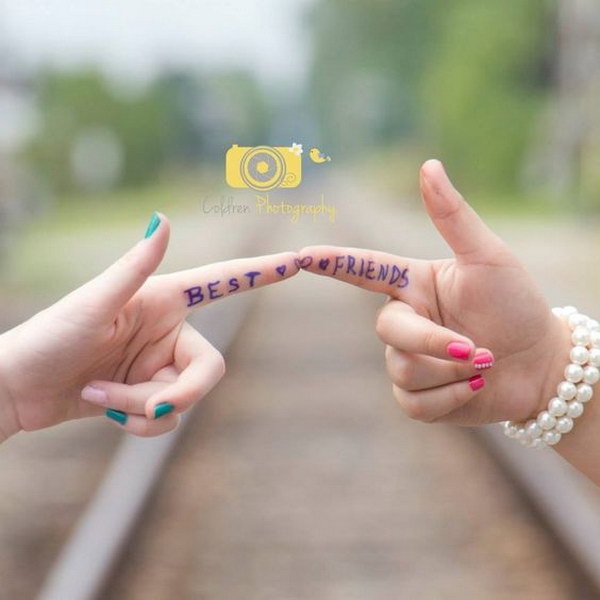 With the added aspect of social media thrown into the mix, best friend pictures have never been more popular. However, there is a new pressure associated with taking pictures nowadays, since they aren't kept in boxes and albums anymore, but rather posted online for virtually everyone to see.
So how do you take a picture that is not only representative of you, your best friend and the love you have for each other, but also but is also Instagram, Tiumblr or Snapshat-worthy? There are actually a lot of simple yet effective ways to accomplish that.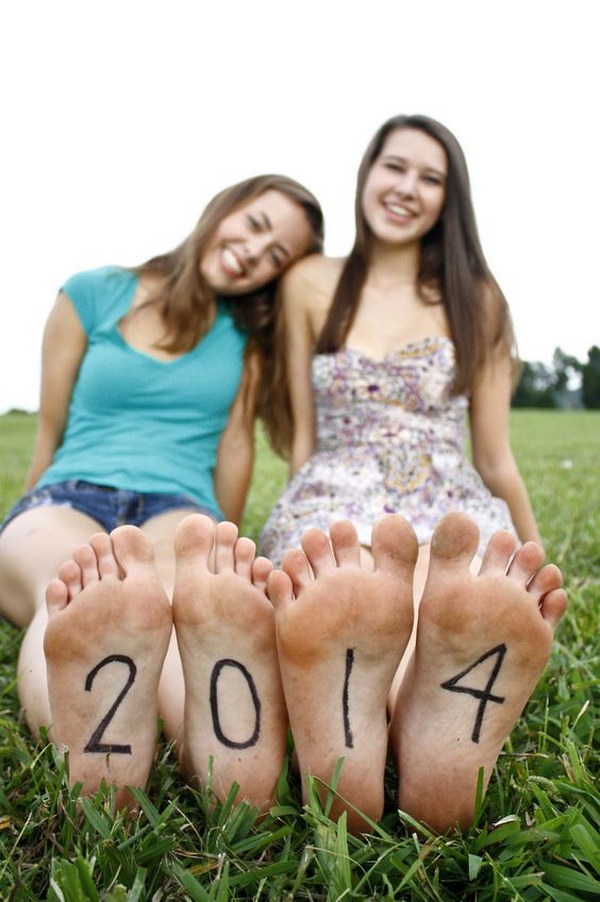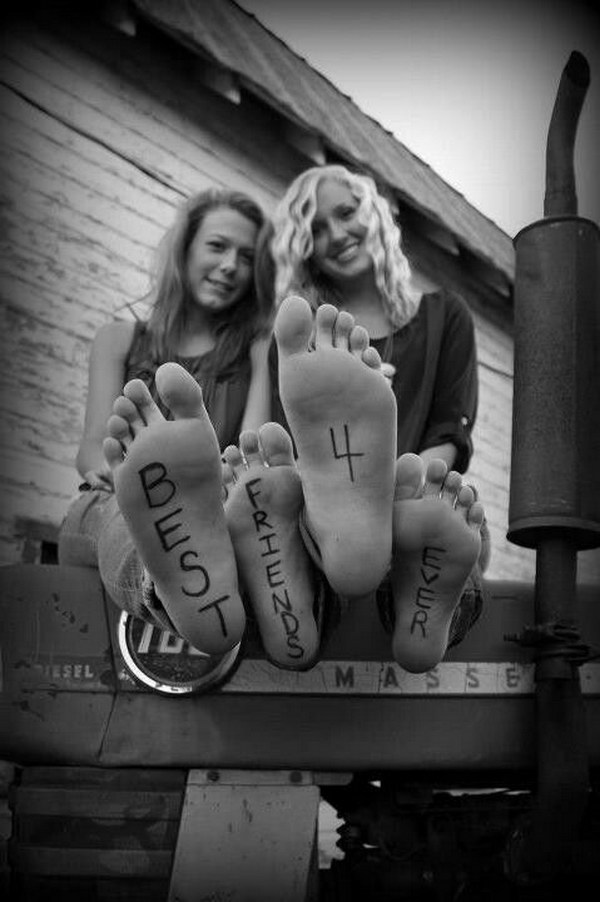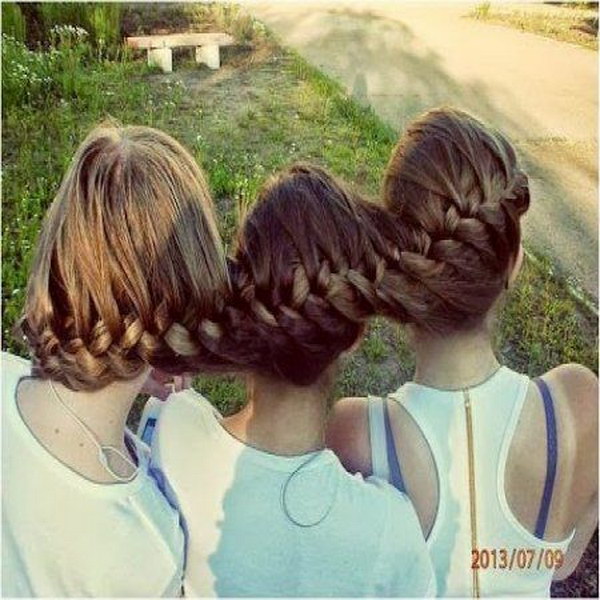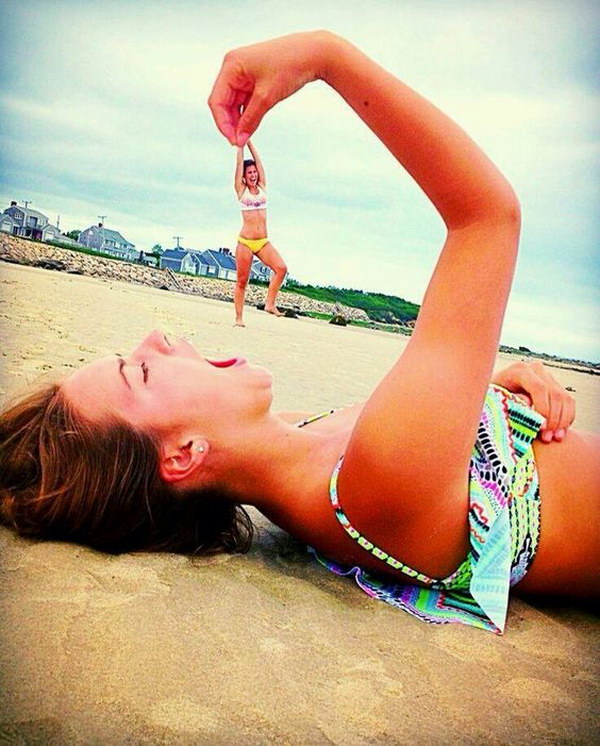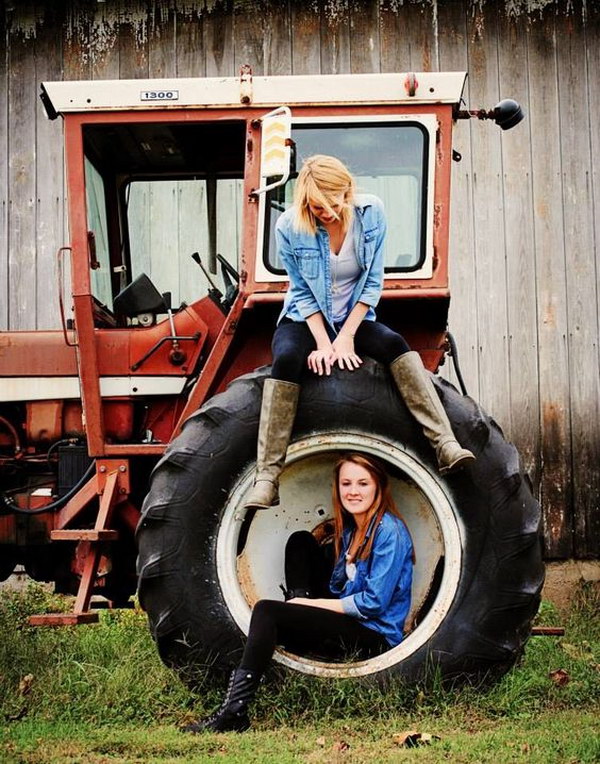 21st century best friend pictures are all about the props and accessories you use. In fact, you can even get a great best friend picture without ever showing your face if you take a shot of your matching bracelets or shoes, for instance.
If you do want to fully appear in the picture, however, you should know that composition and timing are essential. A pair of matching smiles just won't do anymore, unless you are 5 years old and inherently cute. Smiling is nice, sure, but getting caught in the middle of an inner joke will look much more natural and attract a lot more likes than a stiff shot that looks more formal than candid.
Photoshoot >
No studio? No problem! Start with these photoshoot ideas at home to grow your skills and business!
One of the biggest misconceptions about photography is that you have to seek picturesque and perfect locations to take beautiful photographs. But one essential skill of photographers is seeing the beauty and potential in the ordinary. You don't need mountain vistas or even a portrait studio to shoot stunning photos. In fact, sometimes you don't even have to leave the comforts of home. Use what is close at hand with these 10 Photoshoot Ideas at Home.
Taking stock of your "studio"
Before you tackle any of these photoshoot ideas at home, it helps to learn what you have to work with. Take a walk through your home at different times of day and see where and when the best light occurs. Take notes on blank walls or interesting artwork that you can use as simple backgrounds. Look for framing. And don't forget to look for large, spacious areas where you could set up a simple backdrop and a few off-camera flashes for creative and dramatic portraits.
Outside can also provide inspiration for photoshoot ideas at home. Consider what you have to work within your yard, on your front porch or areas near your house. A garage can be a great location to shoot portraits!
Lifestyle photos
One of the easiest and most obvious photoshoot ideas at home are lifestyle photos. I think of lifestyle photography as the acoustic version of portraits…stripped down, simple photos that represent everyday life. That might mean a tickle fight on the bed, making cookies in the kitchen or coloring books and crayons in the living room.
And remember you are trying to capture what could happen in real life. Lifestyle photos can be completely unscripted, but you can also create opportunities for great interactions by setting up a photo shoot. For example – find where and when in your home you have that beautiful, soft window light. Set a small table and chair out with some Legos or other construction material and invite your son to come play while you shoot some photos.
Child portraits
When my daughter brought home her school portraits last year, I knew I could do better, and for cheaper! I bought a background off Amazon, set up a single speedlight in a softbox and voila, I had school portrait with a more authentic smile!
Child portraits are the perfect, pint-sized opportunity for an in-home photoshoot. You can set up a simple background and some lights for traditional portraits or head outside for a more casual look. Incorporate your kids favorite toys, clothes, pets or activities into the photoshoot and make it a more personalized experience. Find a simple, clean background where you have some room to maneuver and start clicking!

Pet portraits
Pets are another photoshoot you can accomplish at home. Dogs and cats are the obvious go-to, but think outside the kennel. Just like people, pets come in all shapes and sizes. Rabbits, hamsters, lizards, frogs, toads, even snakes (yes, I said it) Seamless paper makes a great backdrop or pets because if they damage it with toenails or muddy footprints, you can tear it off and throw it away.
Pet portraits also look great when shot outside. Speed up your shutter to catch pets on the go for candid, playful shots. Or use off-camera flash and a wide angle to up the drama. Choose a setup that matches your normal editing style and expand your portfolio offerings.
Newborn portraits
If you love babies and have patience in spades, newborn portraits can be accomplished in your home or a client's home. Newborn shoots feature tight, close shots of the baby. A full setup with a backdrop and posing cushion or pillow can set up in a nursery, living room or kitchen. You can purchase props and wraps, or get creative with what's around you and tell a story with items already in the home. Lifestyle newborn sessions are another option, focusing less on poses and wraps and more on family interactions.
Cake smash or birthday sessions
Did you miss the newborn window by a few too many months? Cake smashes are a great way to celebrate a birthday for a one-year old, as are milk baths, fruit baths and donut smashes! Not into sweets? Be inventive! Tacos and pasta could make fun, albeit messy, alternatives. All of these ideas can be done inside with a small footprint or outside in nice weather.
And don't feel like you have to do a food-themed birthday session. A cute banner and some favorite toys can hold the kiddo's interest and create a story-telling opportunity.

Food photography
From antipasta to zesty dips, the options for food photoshoot ideas at home are as close as your kitchen. Food photography can make a great accompaniment to a food blog, but it can also be a great source of income if you want to sell images on stock photography sites or work on behalf of a restaurant, personal chef or catering company.
Photographing food requires even less space than pets or kids and food doesn't move! Props can be as simple as colorful napkins, dollar store plates and saucers and thrift store flatware. Experiment with different angles and different depths-of-field to create new and mouthwatering images.
Still Life Photography
Most food photography is still life photography but not all still life photography is food photography. Why wasn't there a question like that on my high school SAT test?
Still life photography is used to describe taking photos of inanimate objects. Fruit is probably the most common example, but still life can also include any kind of food, flowers, toys, clothes, tools, crayons, books, home decor or even money.
Still life photography is small enough to be accomplished in a home studio and is a great way to master composition and lighting. You are in control of every single aspect of the photo, from the choice of objects to their placement and how you light them. Because there is no client in the photo, you can take your time and experiment to get exactly the look you want.
Still life photography can be used to master flash concepts. Those same images can also make a great accompaniment to blog posts, social media feeds or as contributions to stock photography sites.

Macro Photography Photoshoot Ideas At Home
Macro Photography is shooting extreme close ups of images in which the size of the subject in the photo is magnified to greater than life size. Insects, small animals or flowers are common subjects. But other macro photoshoot ideas include jewelry (think those beautiful wedding ring shots), feathers, snowflakes, water droplets, leaves, rocks or small foodstuffs.
Abstract Photography
Precisely defining abstract photography can be a bit nebulous and well, abstract. It's basically creating an image that lacks an easily identifiable subject or object. Start by exploring everyday objects or items in nature. Fill your frame with a small part of a larger object. Can you make it interesting or visually appealing? Make use of distortion by shooting through something transparent like a glass vase or colored cellophane. Make use of reflections from puddles, mirrors or water droplets. Use light, either natural or artificial, to create depth or texture. An in-home abstract photography shoot is limited only by your own creativity and vision.

Commercial Photography
Our final suggestion on photoshoot ideas at home is commercial photography shoots – taking photographs for use in advertisements or marketing. Commercial photoshoots can involve taking photos of products like food, earrings, artwork or other handmade goods. It can also involve creating content that helps sell services. Cleaning services, mechanics, hair stylists, even attorneys all have a need for images that can accompany text about their businesses from time to time. You can arrange a commercial shoot for a specific client, or shoot content to sell later to local customers or stock photography sites.
Whether you have an official in-home studio or just a table in a corner, there are endless options for photshoot ideas at home. You can use any of these ideas to grow your photography skills, build your portfolio or add an additional income stream to your business. The best part about it is there's no rent to pay and many of the subjects work for free!
20 Innovative Photography >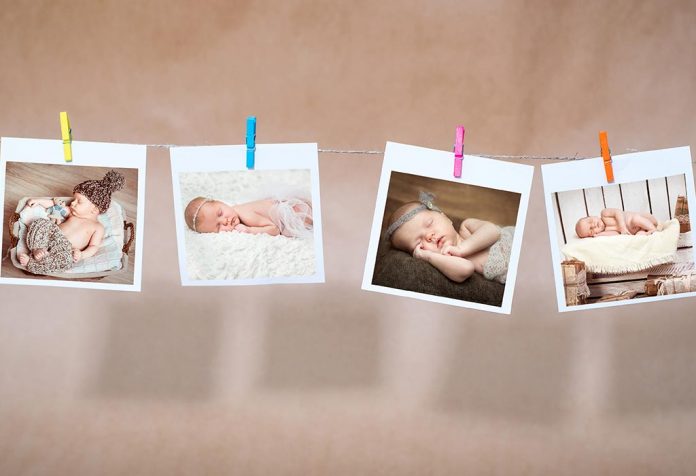 Photography is all about capturing the emotional experience that is felt by the person who is photographed. Taking photographs of kids is a fun-filled activity and it can be enjoyed by all the participants. This is because kids are unrestrained and have no hesitation in expressing their feelings. We've come up with some fun and creative photo shoot ideas that'll have your little munchkins showing all their pearly whites not just for the photos, but all day long.
20 Creative K >
Bubbles can fascinate just about any child; it doesn't matter if they are 6-months-old or 6-years-old. It is an economic photo shoot as all that is required is a bubble blower. Try going for a dark background since it is difficult to capture bubbles against a light background.

2. Balloons
Adding balloons to your photo shoot can be an easy way to add a burst of color and extra bit of sparkle to your images. Try going for red or pink heart-shaped balloons to give the pictures a feminine touch. Please note that the intensity of smiles and happiness is directly proportional to the number of balloons available. The more, the happier!

3. Pretty Angel
For little girls, this makes for an adorable photo. Dress them up in a pretty frock, a star in their hands, wings on their back and a cute crown. Go for a pink or white outfit and your little girl is guaranteed to look like she's fallen from the heavens above!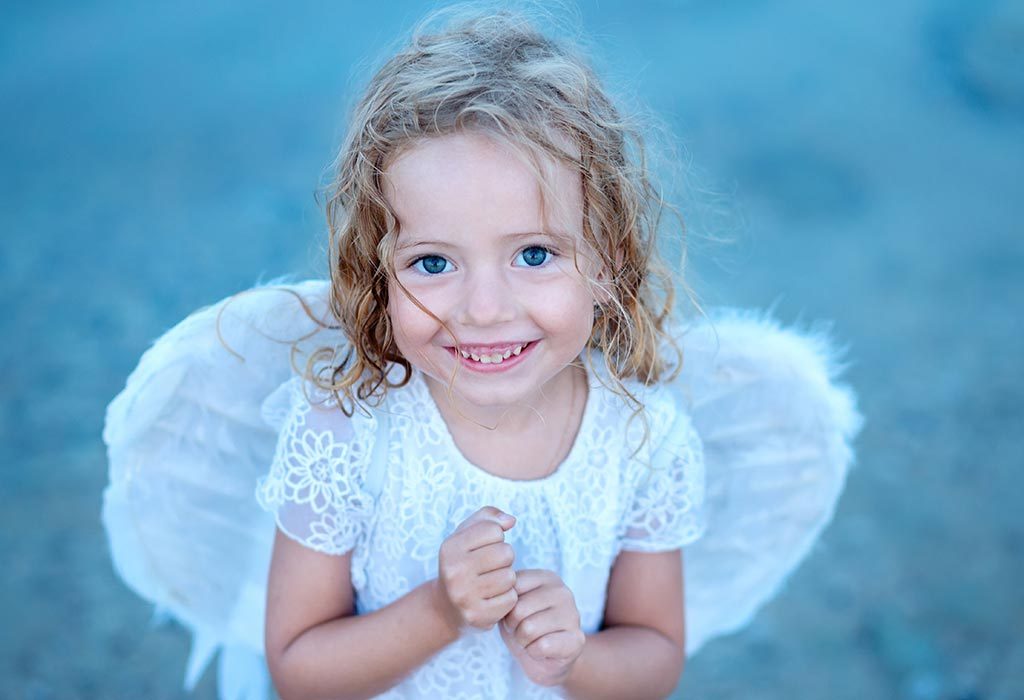 4. Baby in Jelly Beans
Heard of candid photography? Put out a jar of their favourite jelly beans or sweets, and take a few snaps as they stuff their faces with it. The look of joy on their face is going to be priceless!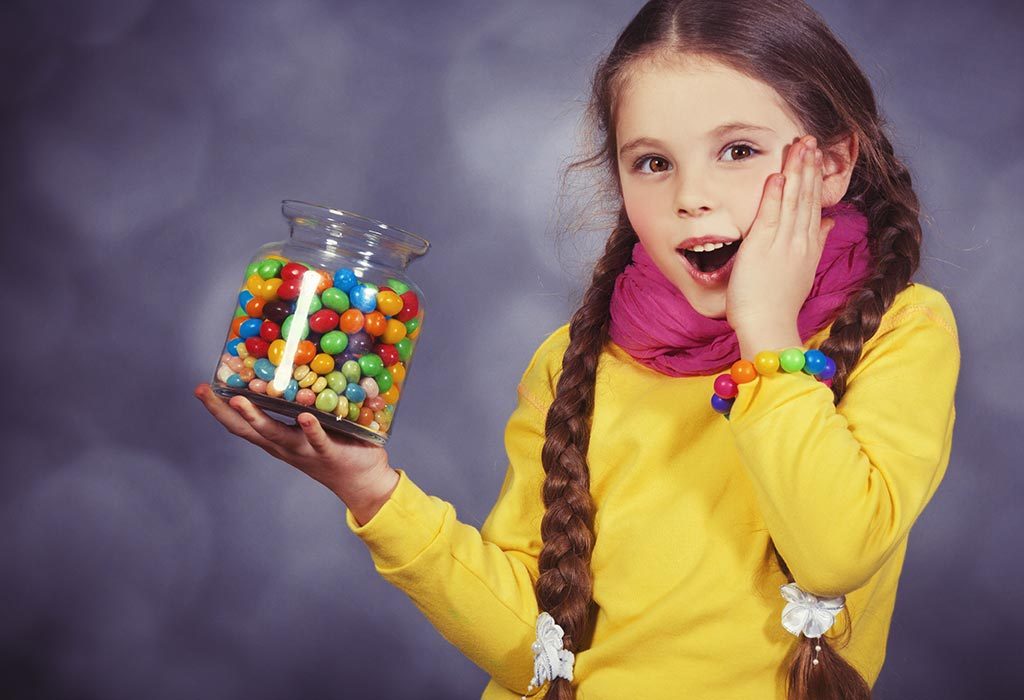 Who said kings, queens and aristocrats were the only ones who were allowed to take portraits of themselves with fruits next to them? There are different ways that you could go about this. For infants, take pictures of them staring at a large watermelon that is almost as big as them! Kids that are a little older? Try taking pictures of them tasting exotic fruits that they have never tried before. Make sure you take the snap just as they take their first bite and comprehend its taste.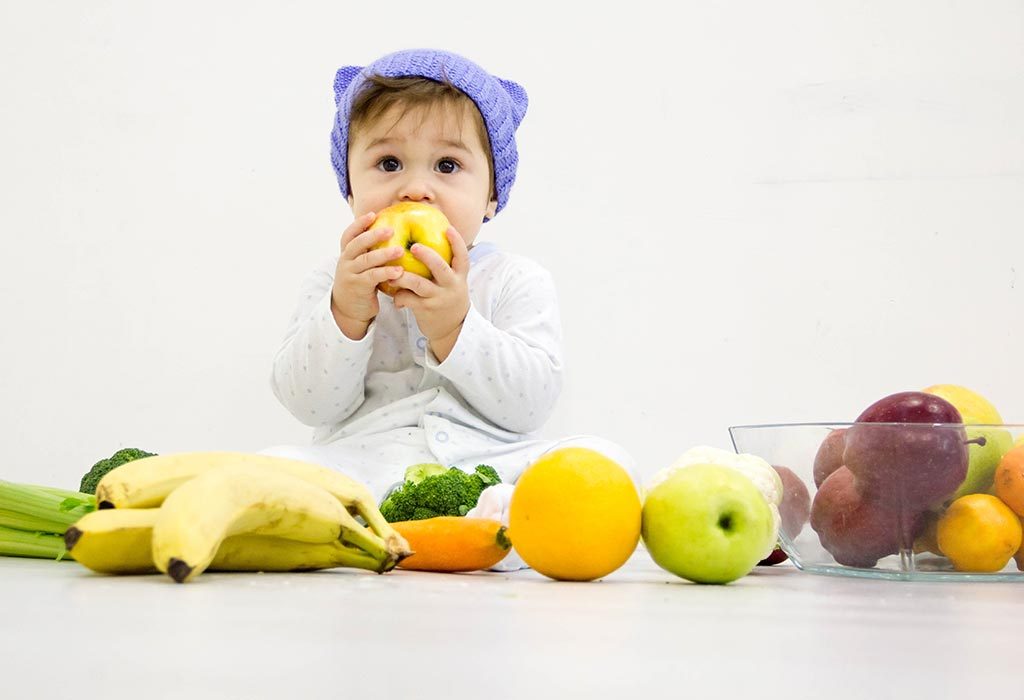 6. Bunny Baby
Are your babies the most adorable things ever? Of course! Get them dressed up in a bunny suit with the fluffy ears and let them go wild with some bunny poses and make sure you have a carrot that they can nibble on as well!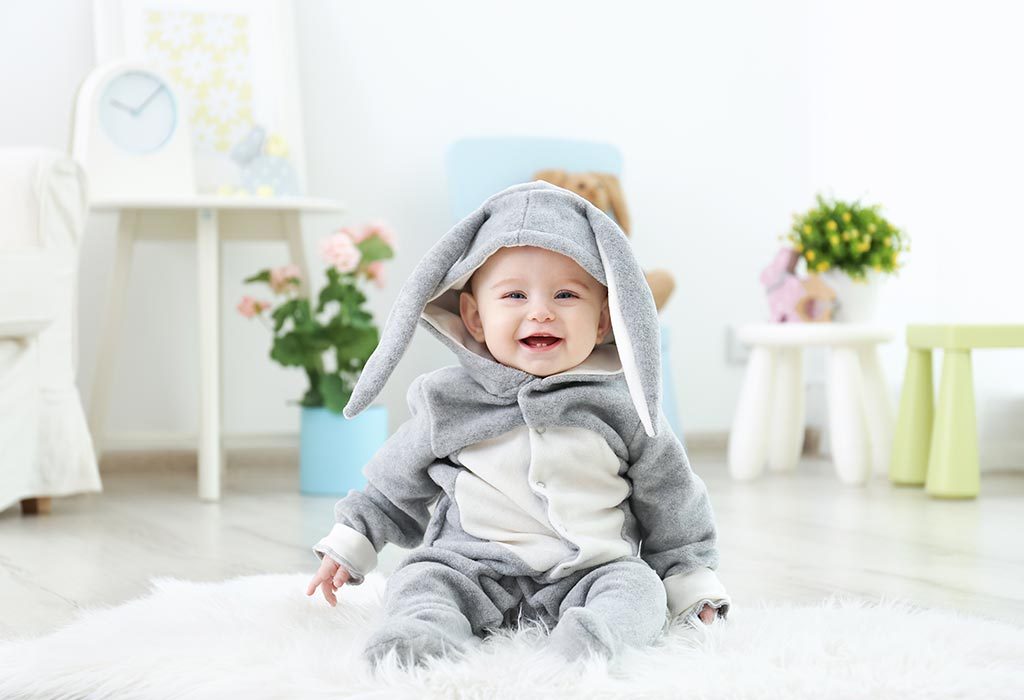 7. Just Hatched
Baskets and crates are perfect for photographing newborns. These ones are relatively easy to take as your baby needs to be sleeping. You can put them in a basket with a sticker that says "Newly delivered" or "Fragile: Handle with care". Make sure these are done by professionals only.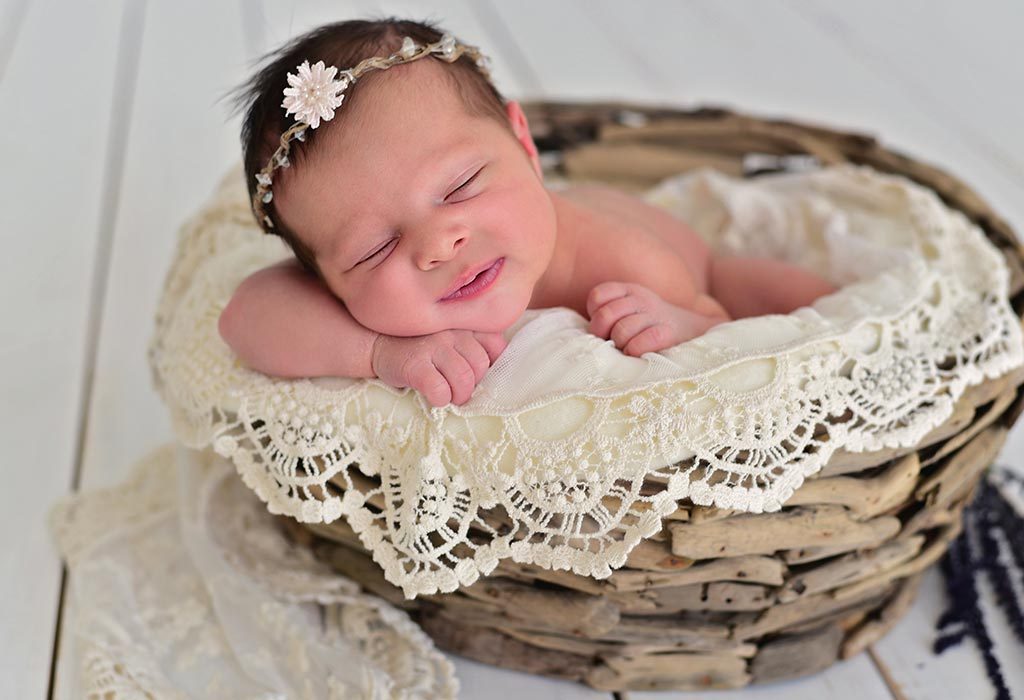 Do you have access to large mirrors for a limited time? Then this might be of some use to you. Place two mirrors on either side of your children so that it looks as if there are loads of them in the same room. Watch their inner fashionistas spring out!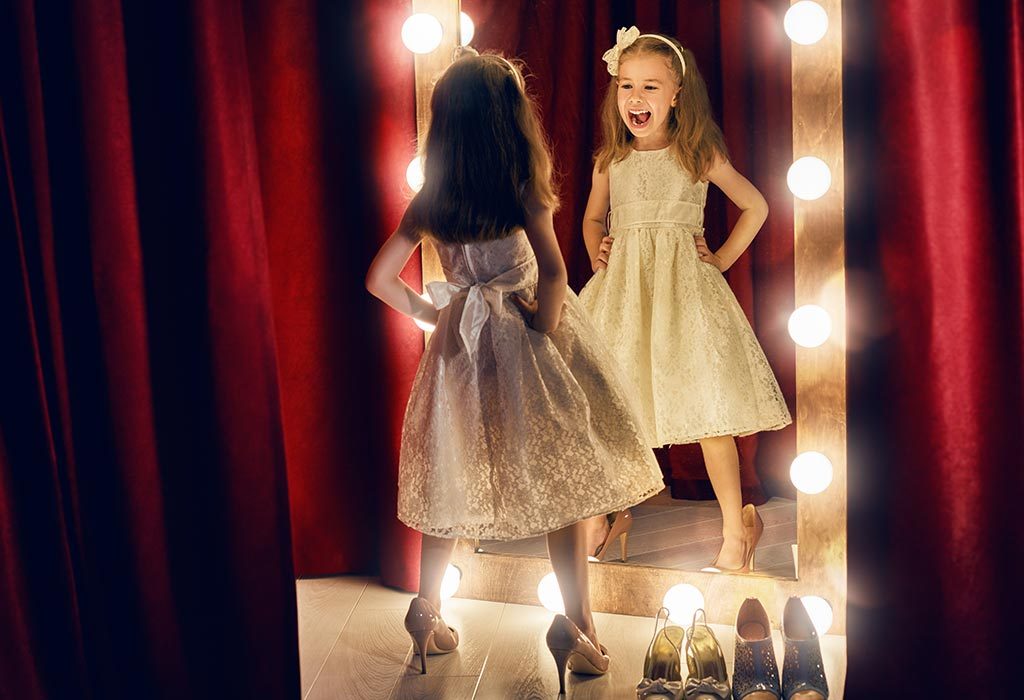 9. Playing with Mud
Are your little ones just discovering mud? This one might a little difficult to do as a parent, but eating mud is something that every kid tries at least once. Make sure you capture the moment. You can frown as they put the mud inside their mouths just to see how they react to it and take a picture of the same.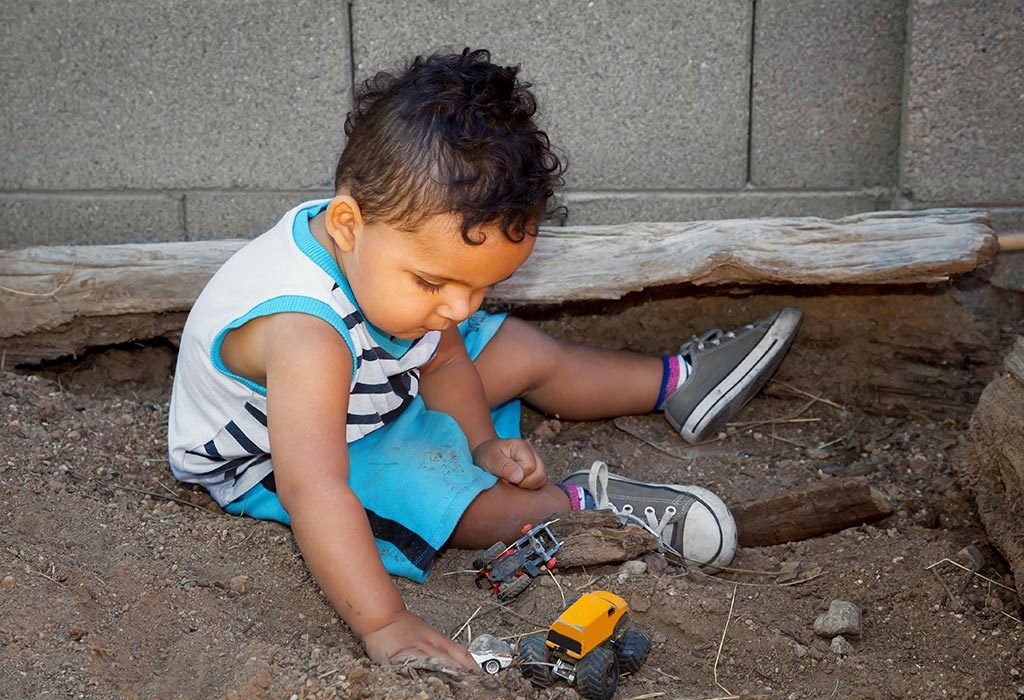 10. Stacking
If you have multiple kids at home, then this idea will work out better. Make them stand according to their height. You can make things a little amusing by making them all wear the same clothes.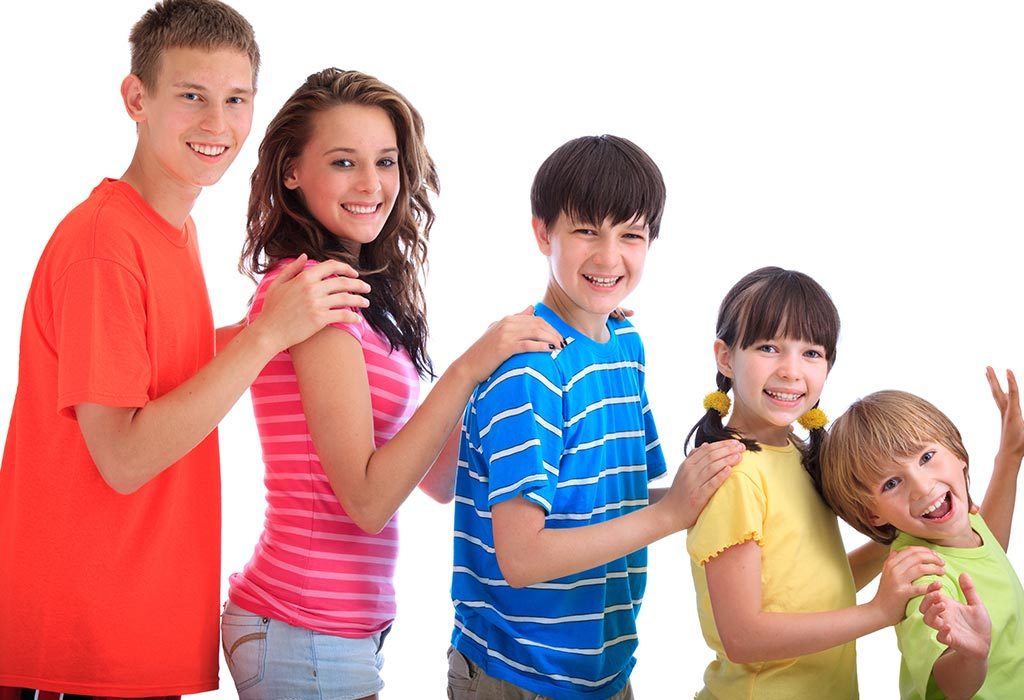 11. At the Beach
A trip to the beach is a fun experience for kids of all ages. You can decide on the mood of the shoot based on the time. Go for a sunrise/sunset if it's serious. Go mid-day if you want to make it all about fun and rich with colour. Feel free to add a beach ball and let your kids go wild!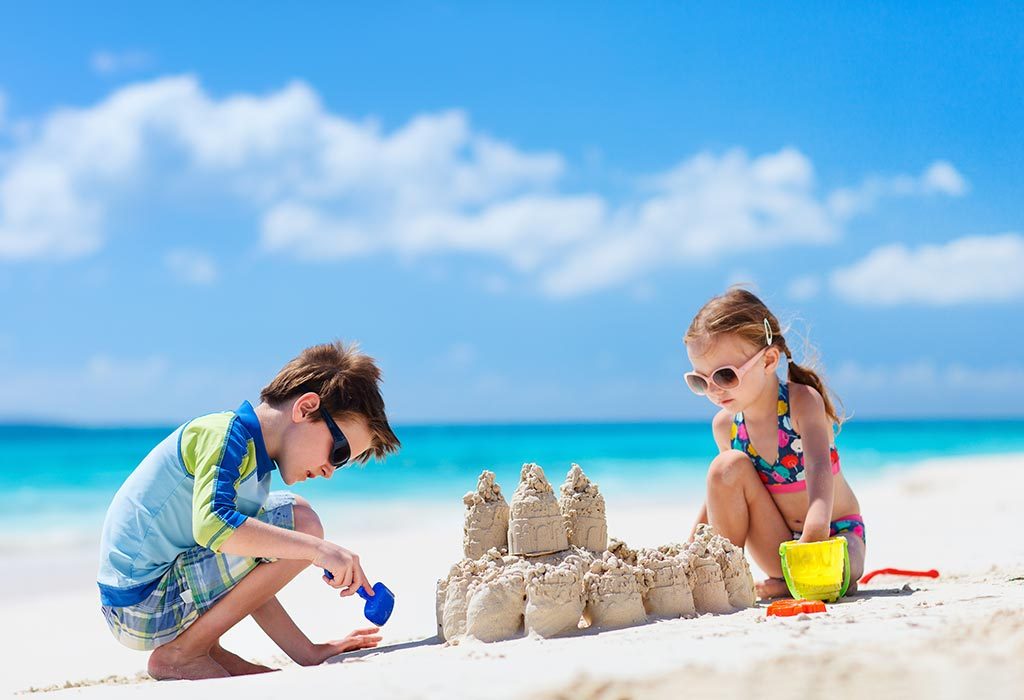 12. Bubble Bath
Bath time is the best photo shoot idea for boys and girls. Make sure you add some extra soap to get a big, frothy bath. The large amounts of bubbles will have your kids so full of excitement that they are bound to lose any feeling of being camera-shy.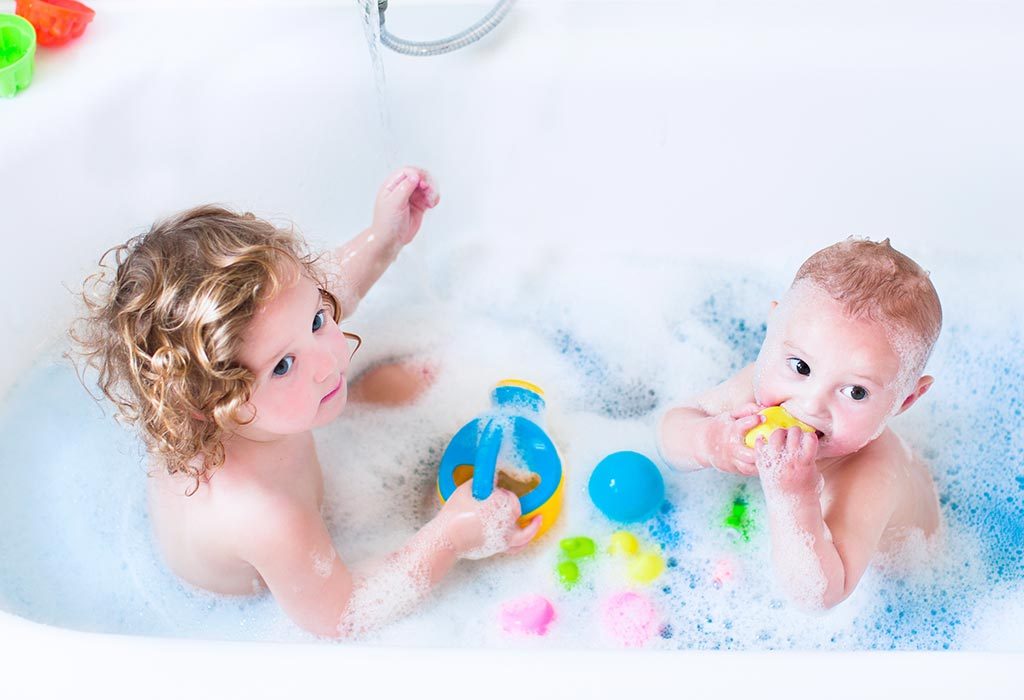 13. Giant Lollipops
'As happy as a kid at a candy store' is an expression that is used often and not without meaning. If your children have a sweet tooth, find the biggest lollipop that you can find and capture their delight when they see it!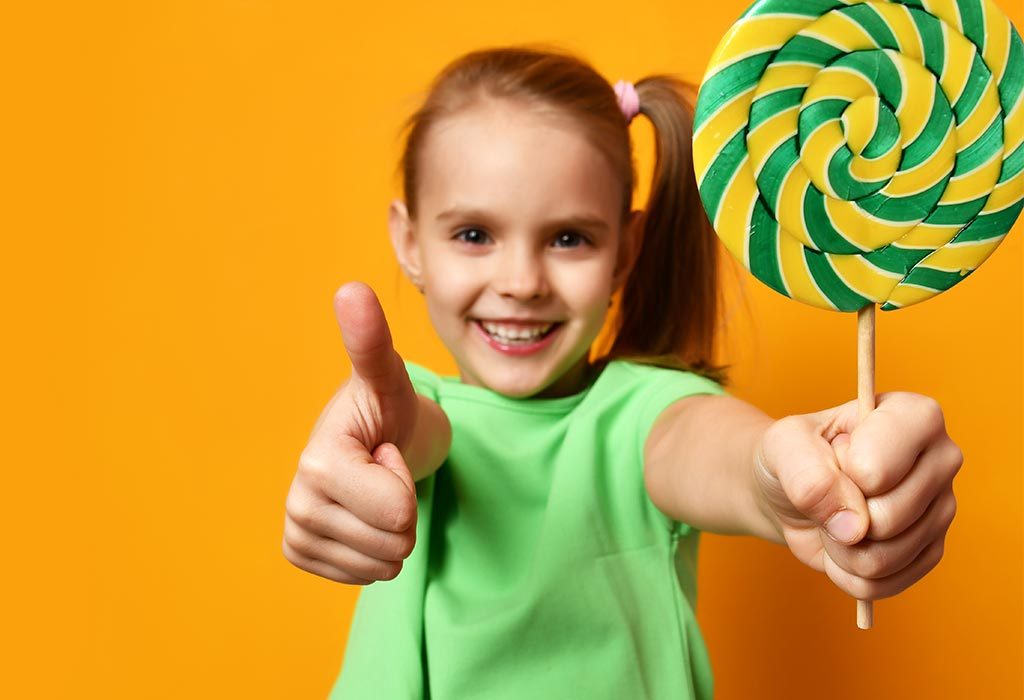 14. Child with Pet
Do you have a family pet that is the object of your kids' attention? The enthusiastic family dog or the unimpressed cat are both equally good options to take a photo with.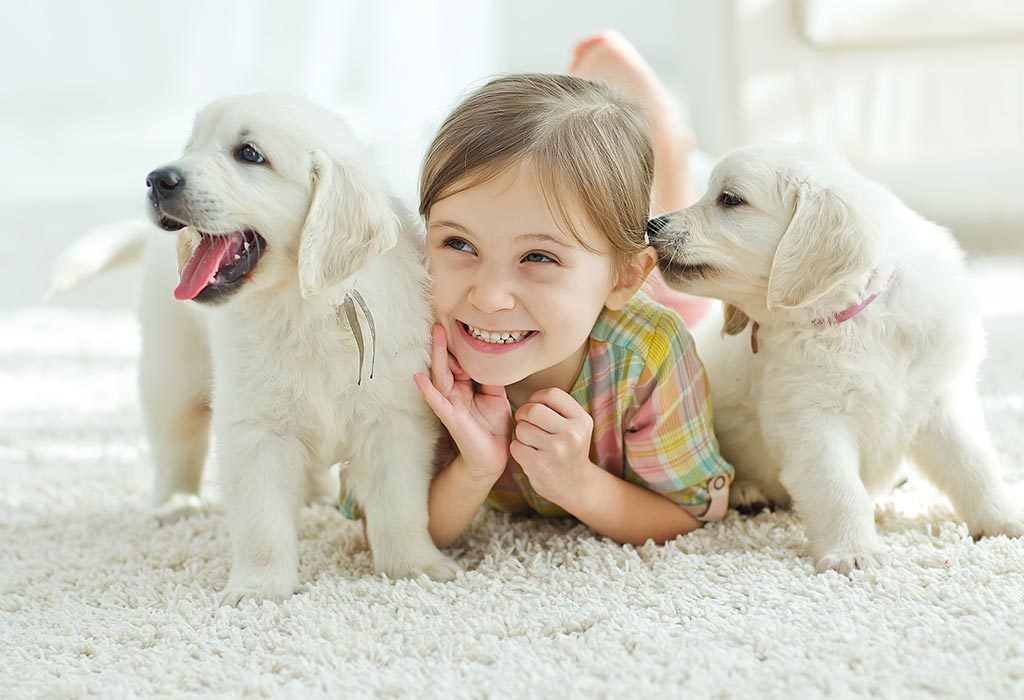 15. Fluffy Dress
Little girls love twirling their pretty dresses. Snaps of the cute little girl twirling, playing with her skirt, and showing off her cute little footwear will be an amazing idea.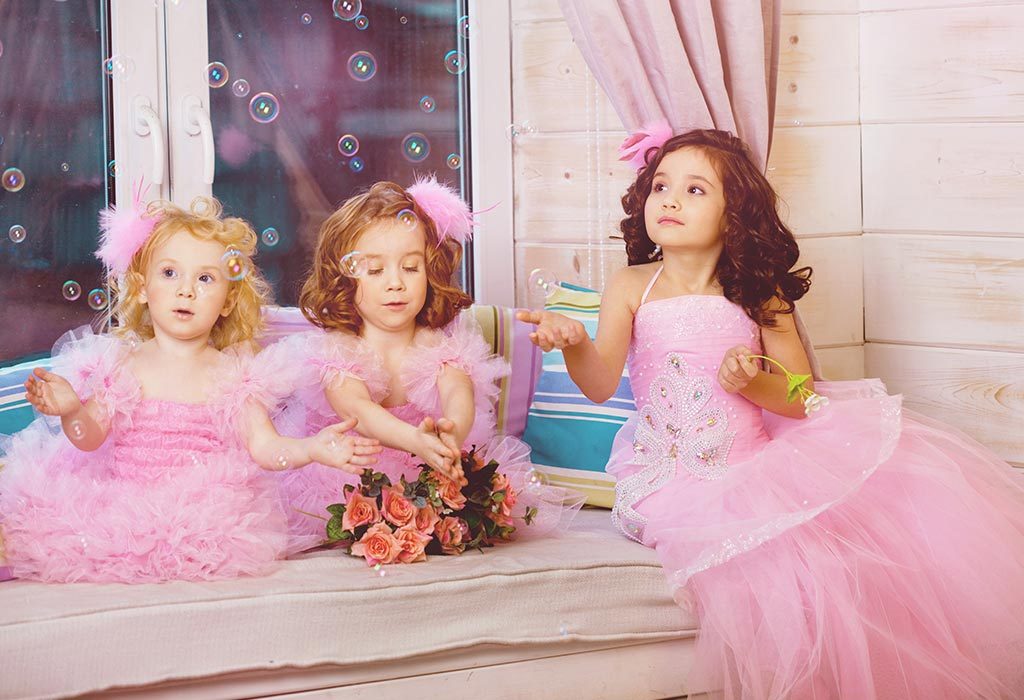 16. Silly Captures
Kids tend to do funny and silly things like jumping up and down for no reason or spontaneously getting into a funny pose. Keep your camera close by and capture these silly and candid moments as and when they happen.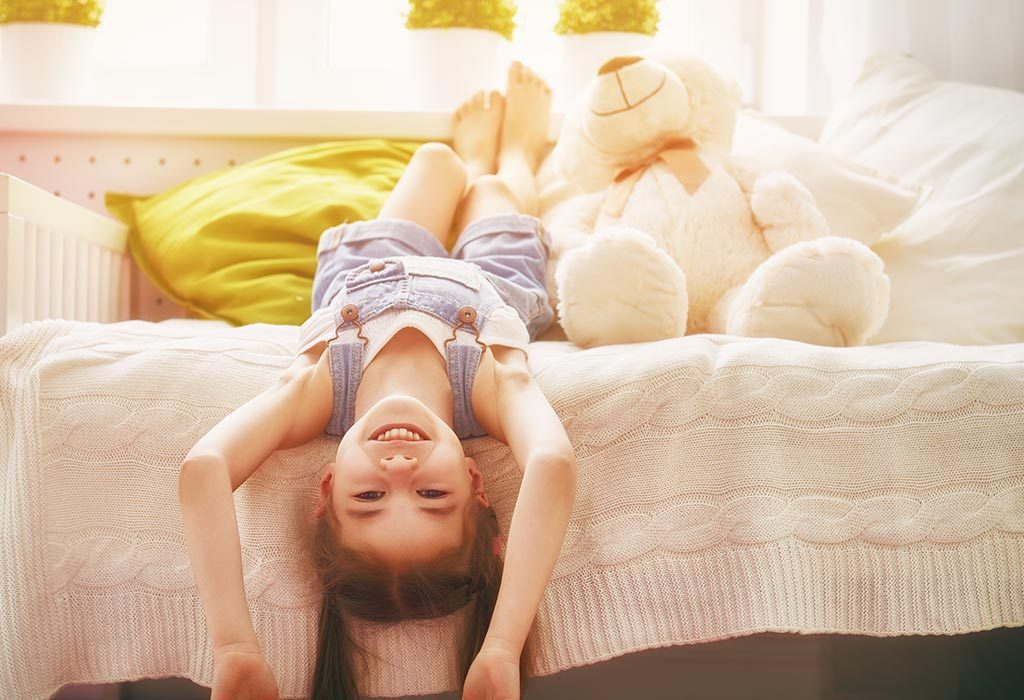 17. School Time
Waiting for the bus on their first day of school is an unforgettable day. They might be a little scared, so make sure you keep their focus on the brand new bag and water bottle. Be excited for them and they're bound to show that excitement to you! Capture the moment as they wave goodbye with bright smiles!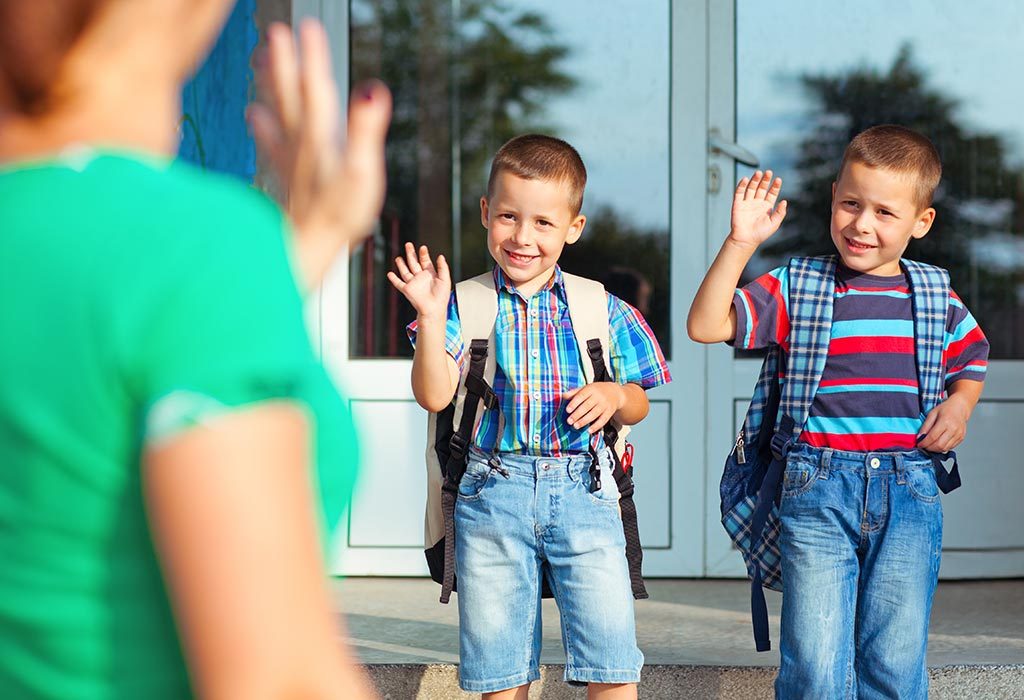 18. With Books
Have bookworms in the family? Take a picture of them with their entire book collection for a later day.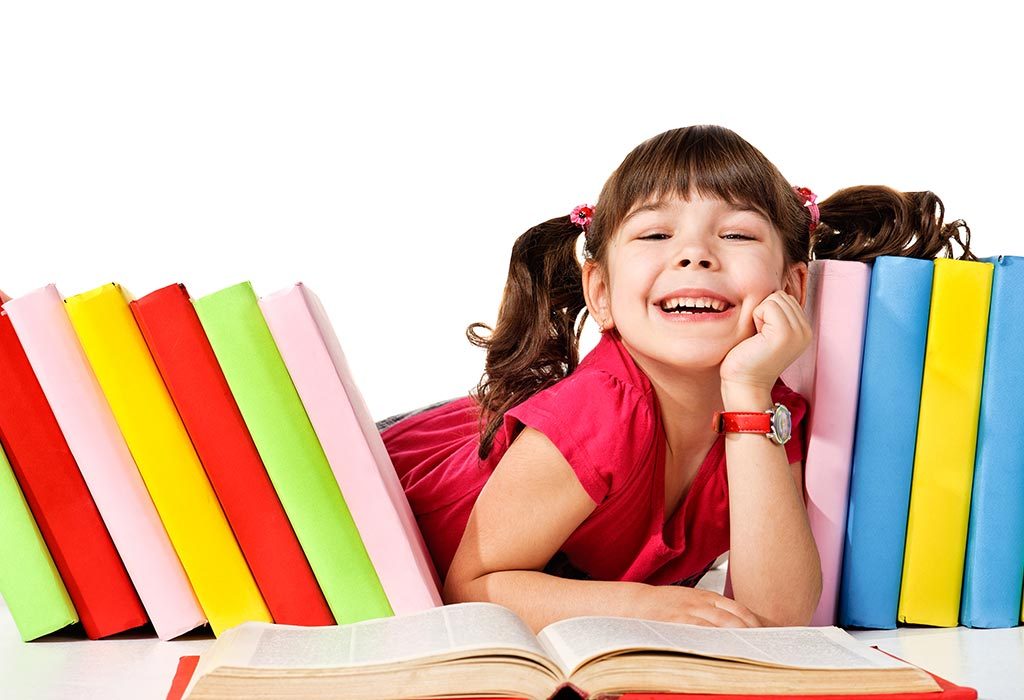 19. Playground Fun
If you're in a new neighbourhood and your kids see a playground with their favourite swings, let them go for it. Make sure you capture a couple of shots while they have fun swinging around the jungle gym and slides!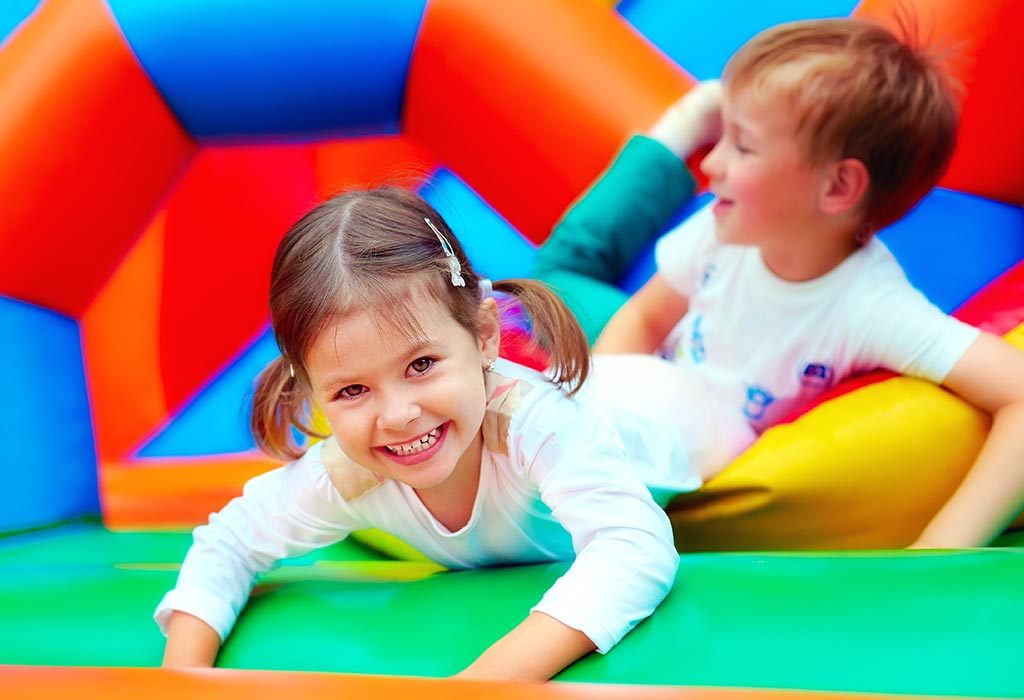 20. FootNotes
Make your kids all sit down with the sole of their feet towards the camera. Use a sketch pen to write the words "We heart(symbol) Dad" or "We heart(symbol) Mom".
These are some great kids' photography ideas that you could try out when you have the time. Have loads of fun while getting your kids to pose for these fun themes; they make for wonderful memories once the kids are all grown up!
Photo Shoot Ideas for a Teen Girl
When girls become teenagers, a variety of moments warrant a photo shoot 2. From birthdays to school events, you may find yourself scheduling multiple photography sessions for your teen. Capture her beauty and personality by coming up with photo shoot ideas that reflect her interests, hobbies, dreams and feelings.
A Garden of Dreams
Have your teen dress up in a whimsical dress and gloves, as if she is going to a high tea. Use a garden filled with assorted flowers as background decor. Select a location that is also equipped with a fountain, for additional scenery.
Sugar and Spice
As the saying goes, little girls are made of "sugar and spice, and everything nice," and so are teen girls. Arrange a photo shoot setting filled with cupcakes and candy, all in the teen's favorite colors and flavors. Set up a dessert buffet display in the background and photograph her playfully throwing items from the buffet or placing candy into small plastic bags and looking as if she cannot decide which items to select.
Sweet Sixteen
Whether your teen girl is planning to have a huge sweet 16 bash, or a casual night out with friends, schedule a photo shoot to capture special moments from the birthday. Take pictures at the party venue before guests arrive, near her cake and the main table, or if there will be games, hire a photographer to arrive early and snap some shots of her playing, ordering food or hanging out with her friends.
Sporty Girl
If your teen girl plays sports or she is a member of her school's dance troupe or cheerleading squad, have her wear her uniform and hold her props in poses. Arrange to use her playing field or school gym for the shoot so that she can be in full motion while the camera snaps.
Back to Basics
A teen girl's photo shoot does not have to include many props and fancy clothes; sometimes, it is important to get back to basics with a simple shoot that features your teen girl in natural makeup with a flattering hairstyle. Help her select her wardrobe, including her favorite jeans, a white T-shirt and her favorite pair of boots, designer tennis shoes or heels. Photograph her in front of her school, sitting at the bus stop, hanging out in the backyard or at her favorite after-school hangout.
Best Friends
Invite your teen's best girlfriends along for a group photo shoot, which will give her a memory she can hold onto forever. Have the girls dress in matching outfits. Present a framed photograph to each young lady as a graduation present at the end of the school year.
Fun photoshoot ideas for your next trip
Want to have some fun on your next trip away? Do you want to take home some brag photos? Have some fun on your next adventure with our 10 fun photoshoot ideas.
Taking photos is my passion but I love to include a few fun photos to ramp it up a little and add interest and variety. Try to personalise your gallery by humanising your photoshoot. Add those crazy snapshots that you randomly snapped and collect a couple of corny shots for your photo album.
It's great to have a collection of photos to take home as 'brag' shots for envious friends and family.
Have fun with our 10 fun photoshoot ideas
#1 Take a predator selfie
Take a selfie with a 'mean looking' crocodile or at least a close up pic!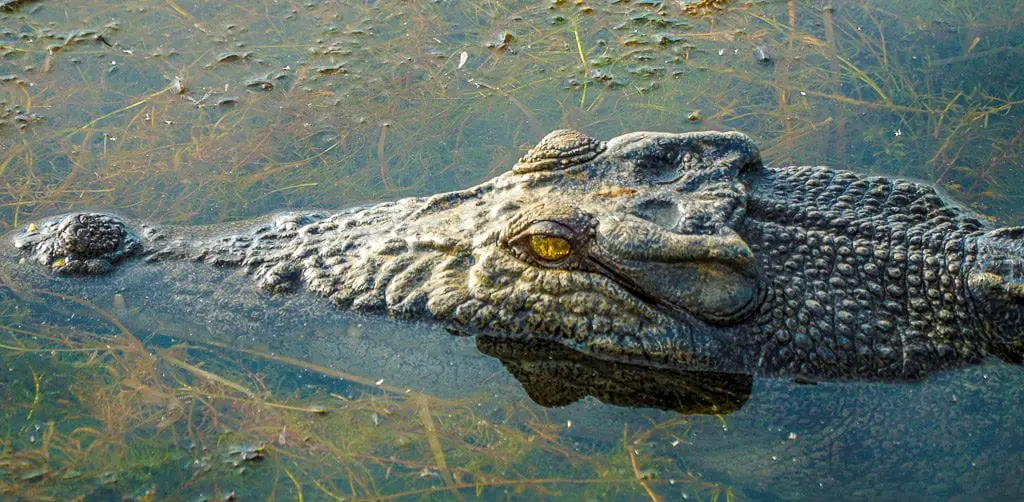 #2 Cheers Mate
Enjoy a cold beer and post a photo to make all your mates jealous!
#3 #Gonefishing #wishyouwerehere
Activate the green monster by Instagramming your successful fishing trip – Don't forget the hashtag!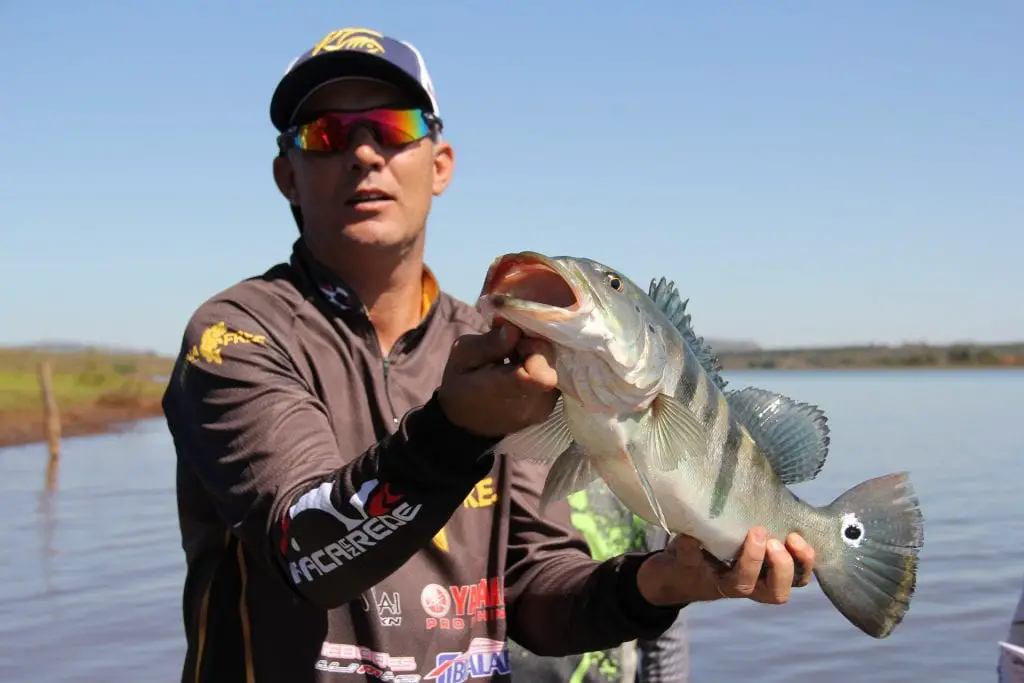 #4 Show us your Thongs
Flashing can be fun. Make sure they're stylish and of the footwear kind!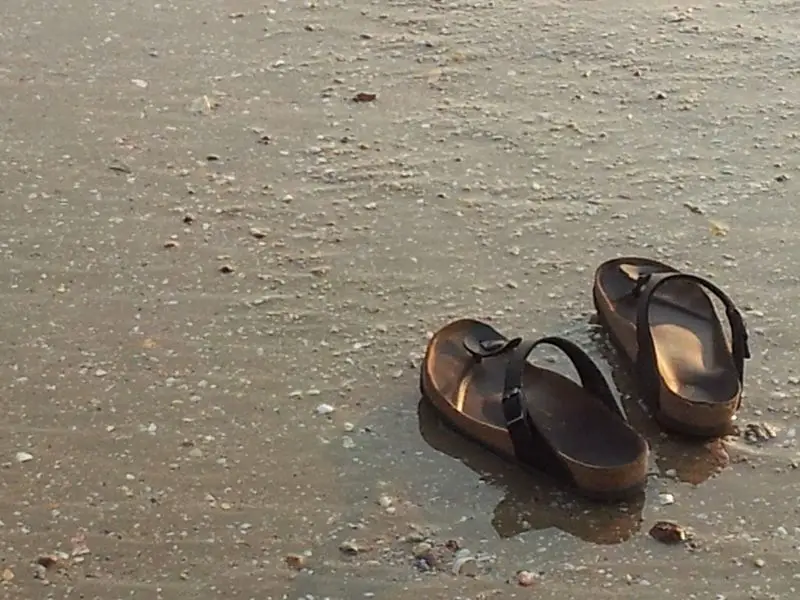 #5 "Oh what a feeling" to be on holidays
Every holiday should include this photo to send home!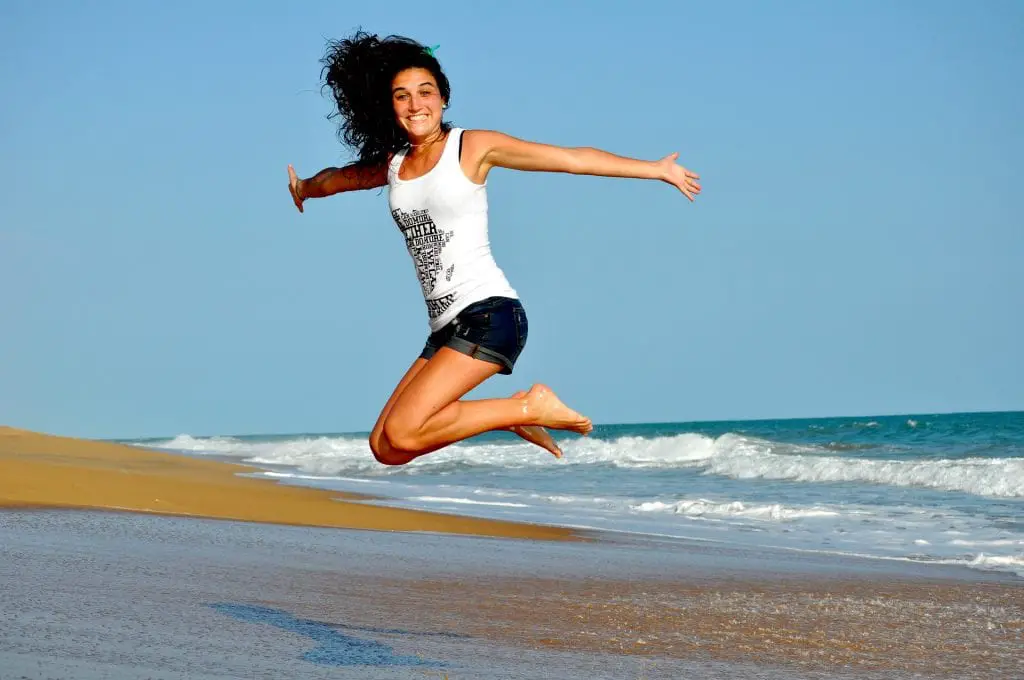 #6 Somewhere up there
Get airborne – take a flight on a plane or helicopter for a spectacular view and take home an incredible memory.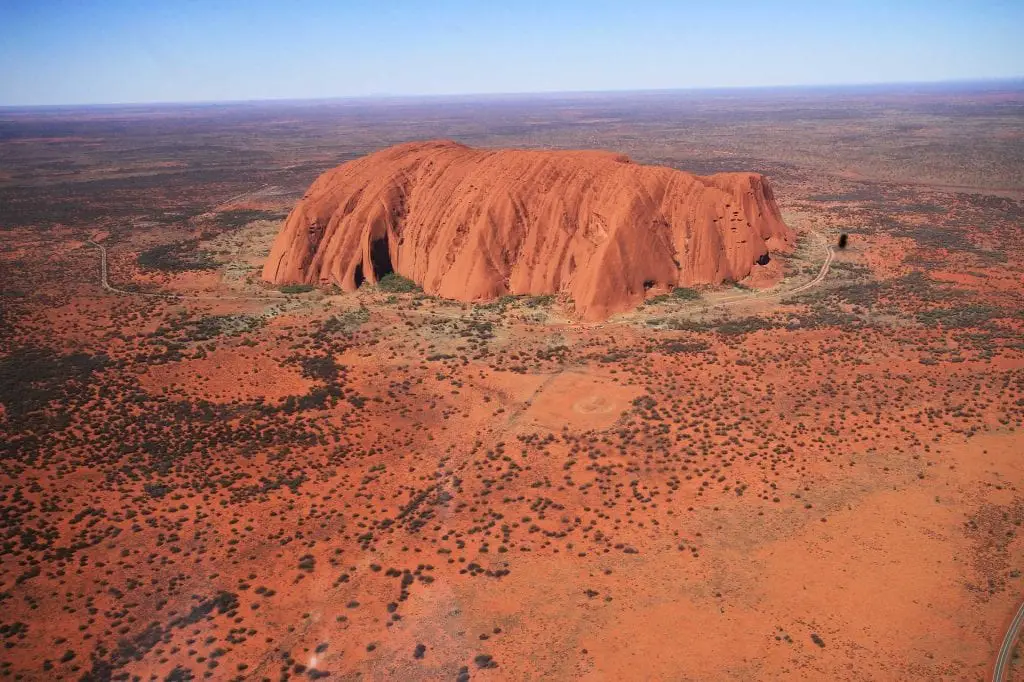 #7 A spectacular sunset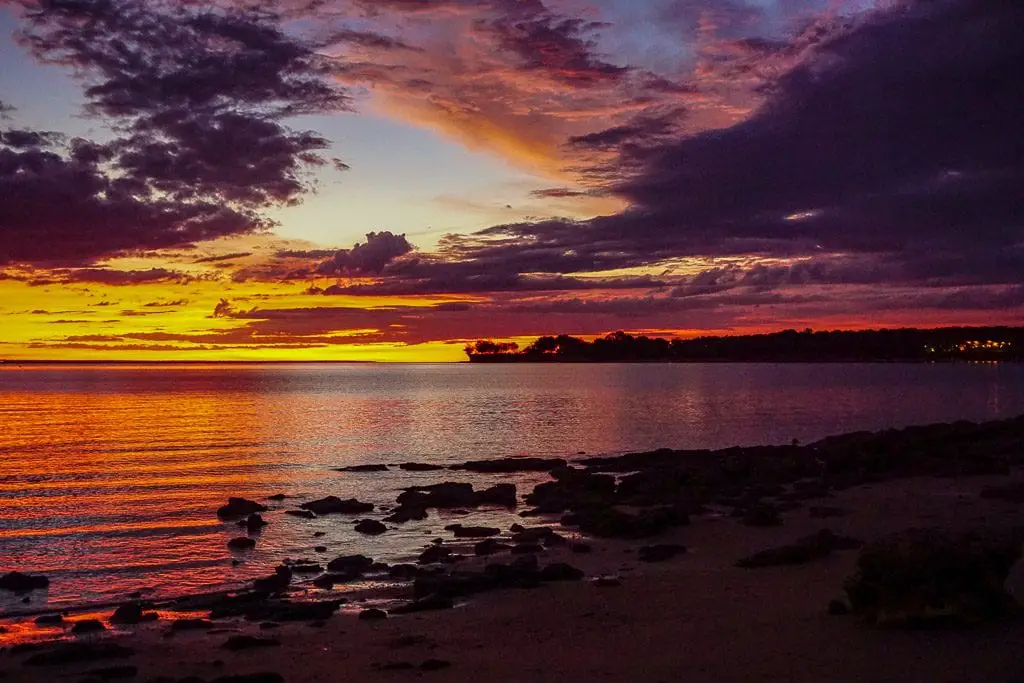 #8 Messages in the sand
Grab a stick to carve out your 'hello, it's me' message to let everyone know you're having an awesome time.
#9 The obligatory tourist shot
#10 I'm Chilled
There's nothing that says 'I'm chilled' as when you're caught napping.

Get Social
Holidays are the perfect time to start up a social media account so don't worry if you haven't got an account yet, they're easy! Social media is great for sharing photos and quick little messages to family and friends.
The most popular social media options are FaceBook, Twitter and Instagram but there are many more to try. Try them to see which one you're most comfortable with. Have some fun taking your first photos to share.
Pin these fun photoshoot ideas for later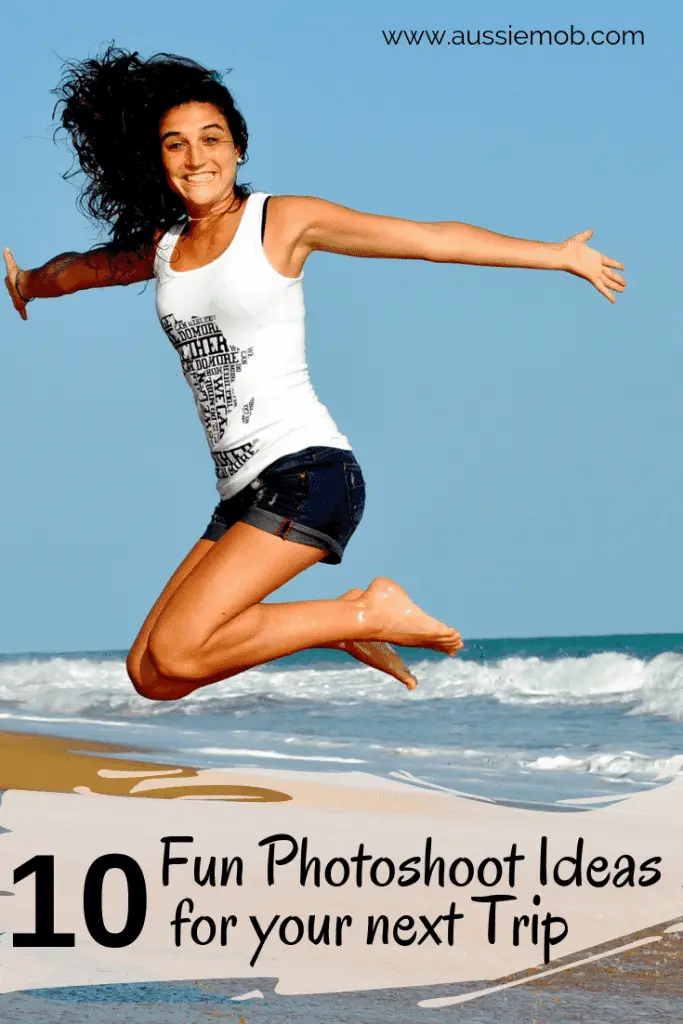 My Aussie Mob Instagram account was set up as a bit of fun but if you haven't seen my Instagram account be sure to follow me.